With the kids all headed back to school, we take a look at how best to ensure your school washroom is kept graffiti-free and clean. Part Two looks at materials and products to help keep your washroom at its cleanest. 
Easier to clean products
Wall hung toilets (Blanc wall hung toilet – suggested by Commercial Washrooms) and troughs (Solid surface wash trough with tap ledge – suggested by Commercial Washrooms) are known to accentuate washrooms and be easier to clean than other products. As the products are not attached to the floor it is seemingly simpler to clean the floor underneath them and due to the materials, and designs, used within the products they are easy to clean as you can do it all at once. Troughs are also known to be effective for multiple users at once and generally being cleaner, with less water escaping the trough and causing more mess.
Anti-slip and easy to clean flooring
Using anti-slip products is much better for washrooms used by students and staff as it is much safer. Washrooms can be cleaned on a regular basis, preventing illness, and still be used at any time, rather than closing the washrooms to prevent slipping and injury. We suggest using this flooring in your facility due to its safety features which will greatly benefit students and staff.
Anti-vandal Materials
In most school washrooms there is graffiti and vandalism covering the washroom walls. This can be easily prevented by using anti-vandal materials. Commercial washrooms provide Ultra plus toilet cubicles with high abuse materials making it extremely hard for students to vandalise school property.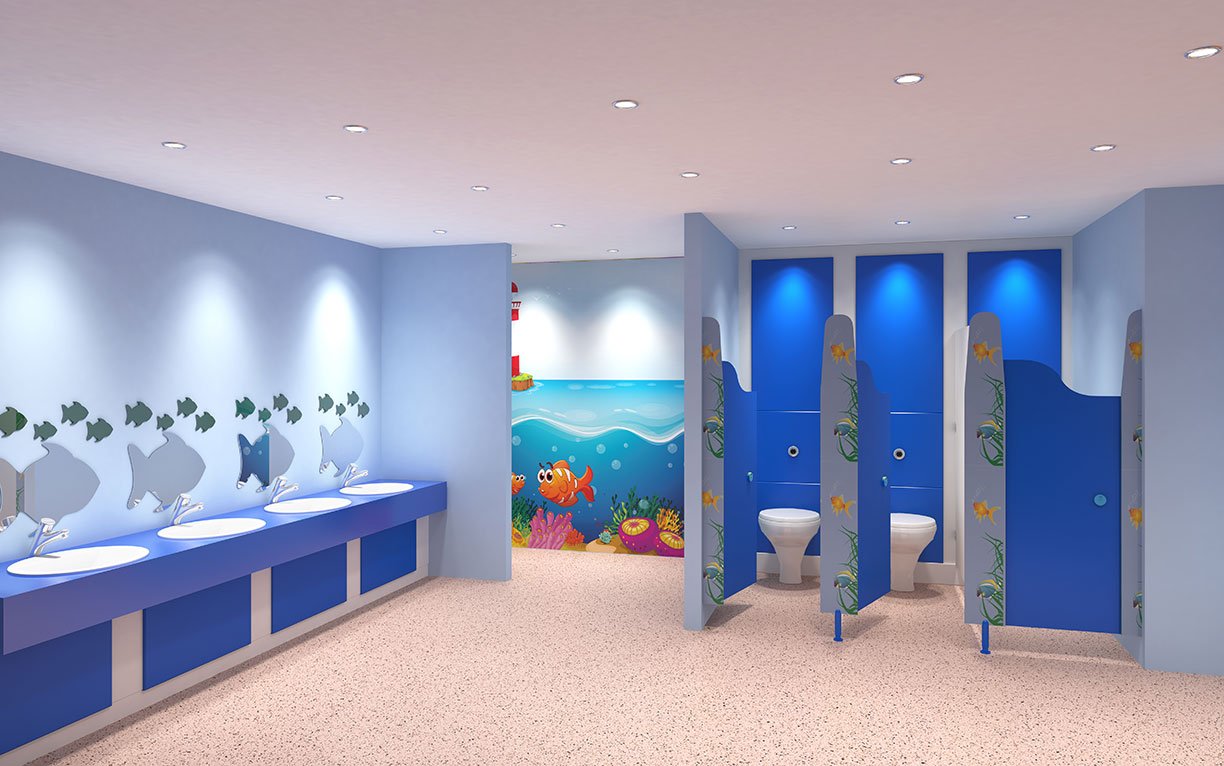 Vandalism in schools can cause many issues and most importantly of these issues of bullying. By using high abuse materials there is less chance of bullying happening where teachers cannot see it, meaning issues can be resolved quickly.
Correct ventilation
Correct ventilation within a washroom is very important as it can affect a lot of different factors. Moisture from the air can lead to condensation which can further lead to the growth of mould. Exposure to mould, a fungal bacterium or damp environments can cause health issues (including irritation and nasal stiffness), especially to those who are sensitive to moulds.
Using correct ventilation lets moisture escape the washroom, consequently preventing mould and lets hostile smells to escape the air, allowing the washroom to be fresh and pleasant.
Wall Coverings
Much like anti-slip flooring wall coverings are easy to clean and maintain. This gives a chance for regular cleaning, further protecting students and staff from any illness' or infections. Wall coverings also protect walls, hence preventing vandalism and give detail to plain designs. They also cover flaws within a wall that paint can't fill, overall making the washroom look cleaner.
As always, our team are at the end of the telephone for all your queries and questions and have a wealth of knowledge they're happy to share with you. So if you need some guidance, or would like to talk over your options, you can give them a call on 01202 650900.