The successful planning, design and installation of contemporary wash and changing rooms is no easy feat. Today more than ever, we are constantly trying to future proof our refurbishments to the user's needs. In doing so we need to contemplate things like business expansion and employee numbers growing.
One of the most essential areas of focus, particularly in environments where users need to change out of their clothes, is storage. A dry area to securely stow personal belongings is fundamental.
Space, size & storage
First off, you need to make the decision on how big you want each locker to be. With options including everything from full-height single lockers, to a six-door locker, you have a lot to choose from. The most popular options are usually two-door, and three-door lockers. These provide ample storage for a rucksack or changing bag, shoes, towel and personal items. You'll most often find these in leisure centres, golf clubs and gyms. However, even the six-door lockers provide enough storage for a changing bag, so you might want to weigh up what space you have available before you decide on what lockers you're going to have. Remember, just because you're a bit tight on space, doesn't mean you can't incorporate enough lockers.
Choosing the right materials
When thinking of lockers, most people remember the metal doors from senior school, but metal is still a classic and very durable material choice today. The iconic metal locker stands up to prolonged use and wear and tear. This is often a popular choice in industrial environments like factories and foundries, not to mention many gyms.
However, solid grade laminate (SGL) is hot on its heels when it comes to durability. The added advantage here is that unlike metal alternatives, there is never a risk of rusting on the panels and doors, which is particularly advantageous in wet environments like swimming pools. Although most metal lockers are protected against rusting, when panels and doors get damaged, the metal beneath can be exposed.
SGL is completely impervious to water and comes in a huge range of colours, meaning you can tie them into your washroom design seamlessly. SGL doors also finish much closer together compared to metal, so a consistent wall of colour can be achieved. This type of locker is rapidly becoming the preferred option in leisure centres and wet swimming pool environments.
Locks
All our lockers can be fitted with your choice of locks. A traditional key-based cam lock can be incorporated to both metal and SGL locker doors, as can coin-operated locking systems. Hasp locks are often utilised too. These rely on users supplying their own padlock.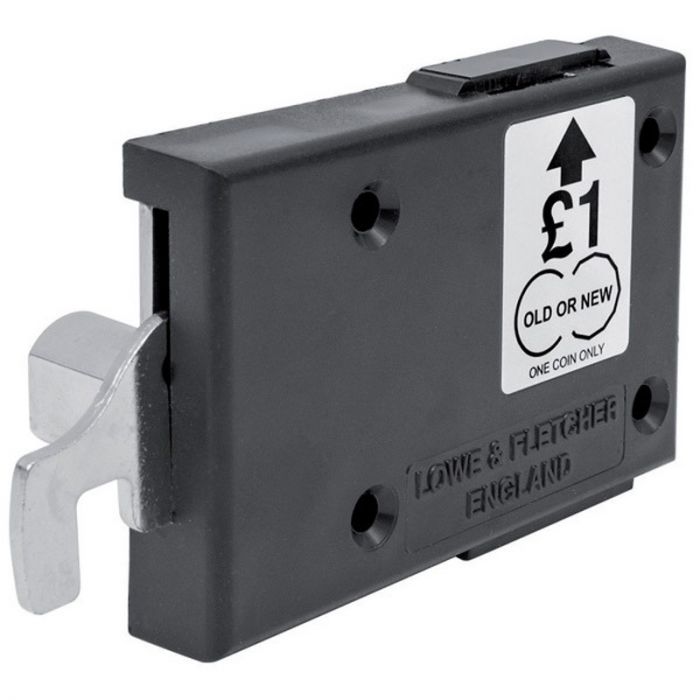 Colour options
Our metal lockers come in a range of colours and are treated with ACTIVECOAT, an anti-bacterial powder coating that reduces the spread of MRSA, E-Coli and other bacteria by 99.9% for the life of the coating. This comes in a number of different colourways too.
On the other hand, SGL lockers come in a much wider range of colours and are also strong on the hygiene front, being extremely easy to sanitise.
Decisions for the industrial workplace
Changing rooms in the industrial environment may need to be prepared against the use of chemicals and excessive dirt. In this setting users are more likely to have a larger volume of personal belongings; clothes, work clothes/overalls, work boots, lunch and other personal items. For this reason, it is strongly advised to go with full height or two-door lockers.
Sports centres, gyms & golf clubs
Both metal and solid grade laminate lockers are popular in gyms, schools and sports centres, but in the golf club, the expectations and 'feel' of the changing rooms can be a little more demanding. SGL gives caretakers in this environment the most customisation. A wide range of colour and wood finishes are available and in general, SGL gives a smarter, more up-market finish.
Customisation is also key in the golf club environment where members are often allocated with a locker, which will be theirs for the life of their membership. Shelves are an obvious addition, as are coat hooks and in some cases, internal mirrors.
For increased durability and vandal resistance…
Our solid grade laminate lockers offer the most durable, vandal-resistant personal storage. The hinge has an integral securing plate that clamps the door to the hinge for increased security. The hinge also allows a full 180˚ opening even in the middle of a bank of lockers. The Shockproof doors are also resistant against scratches, meaning these are an ideal option for environments prone to vandalism, such as some schools and leisure centres. A sloped top is also available with these lockers, meaning things can't be left or stored on top, but also, to prevent people from climbing on them.
Even with all these durability features, the Probe Shockproof lockers are actually some of the best looking units available and look fantastic in all washroom environments.
Last-minute tips
Of course, lockers can be mounted straight on the floor, but we highly recommend raising them 100mm off the floor on a plinth made of anodised aluminium.
Whether you're installing a large volume of lockers, or just a small bank of them, give thought to the usability of the space. Benches and/or coat hooks should be placed close to hand to facilitate changing, and help keep dry clothes off the wet changing room floor.
If you'd like to discuss custom locker options further or to take advantage of our washroom design service, please get in touch.