Upgrading your washrooms on a budget
For years the commercial wash space has been a cold, clinical environment that was often overlooked in terms of interior design. However, times have changed and thankfully washrooms everywhere from universities to co-working spaces are bringing in playful and inviting design.
While features such as wash troughs, sensor taps and clever storage all have their role to play, the cubicles and wall surfaces themselves also pose a huge amount of potential when it comes to contemporary interiors.
Cubicle wraps - delivering colour, imagery and texture effects
Architectural film is presenting a huge range of possibilities, allowing you to bring in a vast array of finishes. Whether that's a rich wood grain effect, or a floor to ceiling image of a serene landscape, this highly durable material completely transforms a washroom in a matter of hours. We have access to 2300 styles already, as well as custom options for slogans, branding and hi-resolution imagery.

Make a statement
We are seeing this option being explored for signage across many sectors. Because the film sheets fully cover a wall or panel surface, you can embed imagery or wording wherever needed without the need for fixings and fittings. Sometimes this might be a picture of the London skyline, in others, it may be a wall depicting a dense woodland forest. Architectural film is also useful for empowered messaging, soft advertising and post Coronavirus messaging about washing hands properly.
An eco approach to revitalising washrooms
There are many washrooms that are structurally sound but have either become dated or showing signs of looking tired. Rather than ripping out and replacing certain surfaces, you can extend the life of those materials by applying architectural film. The new lease of life given from the material means that cubicles, DUCT sets & wall panels don't end up in the skip prematurely. For older, slightly porous surfaces, the waterproof architectural film also creates a water-tight barrier that improves hygiene and can make sanitising the washroom quick and efficient.

Protected under a solid warranty
All our cubicle wraps carry a 10-year warranty, ensuring they stay stuck and retain colour for an entire decade - and it will most likely outperform that. We also have options to include antibacterial and antimicrobial properties within the film too.
Whether you're looking for a cost-effective, but powerful way to freshen up your existing washrooms, toilets and changing rooms, or for a bold statement as part of a new refurbishment, architectural film poses endless possibilities.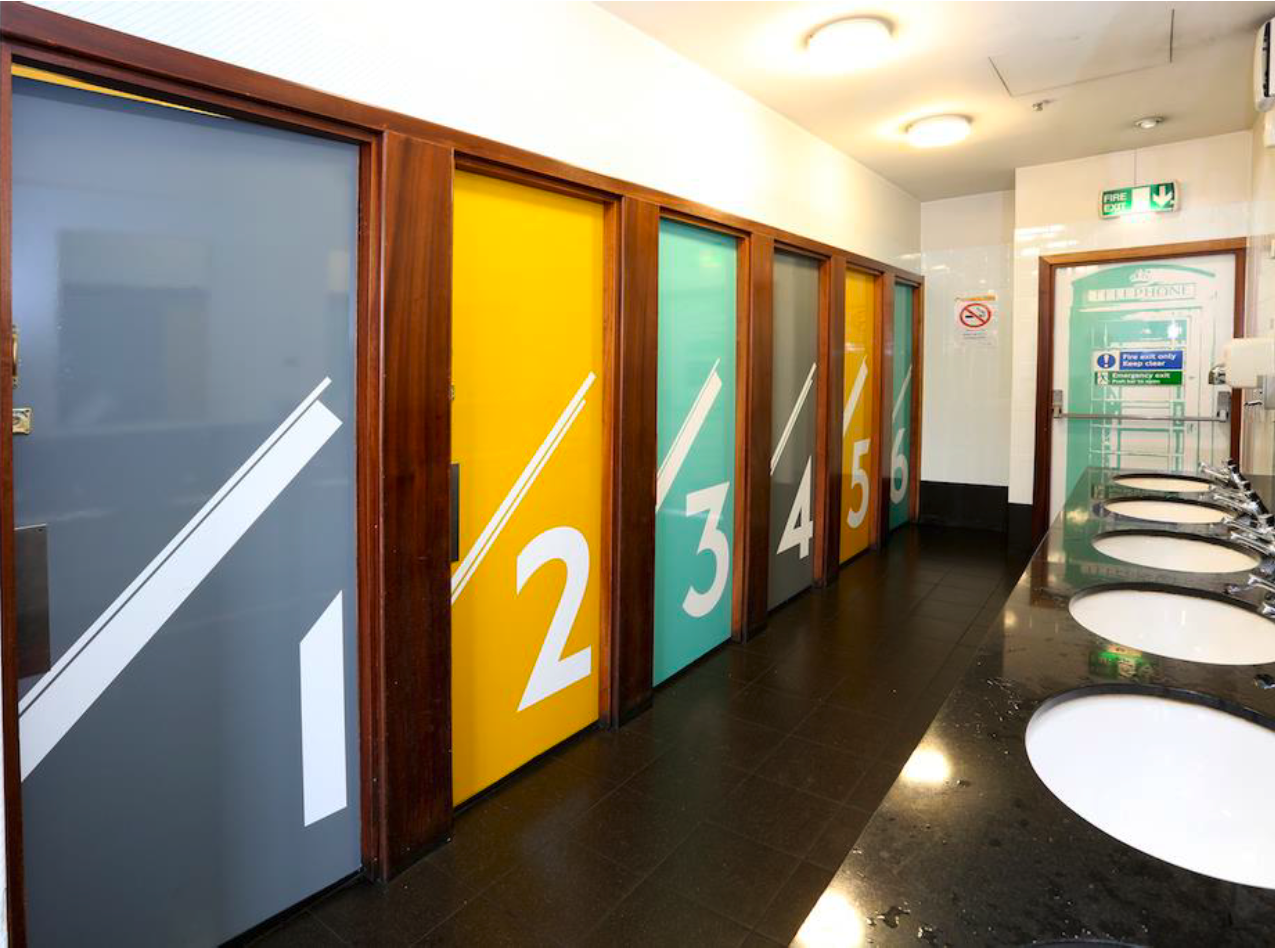 If you'd like to find out more on our architectural film services or to get a quote, please get in touch with one of the team on 01202 650900.