While the quieter, off-season months deliver caravan and campsites with a little breathing space, there's a lot to consider and plan for the season that lies ahead. Routine maintenance and upgrades to your washroom and shower blocks are abundant in the quieter months, as are complete rebuilds and refurbishments, so we thought we'd put together a checklist to bear in mind when planning your upgrades.
1. Could we improve lighting
One of the most common issues encountered in holiday park washrooms is insufficient lighting. Washrooms in this setting are used at all hours and need to have adequate lighting for pitch-black circumstances. Exterior lighting is of paramount importance as trips and falls, particularly in muddy weather, are most common at night. For efficiency, and cost-saving, these can be put on a timer that either switch on at set times or comes on automatically when it gets dark. These devices can also be retrofitted to existing lighting systems. You might also consider lighting the path that leads to your washroom and shower block too.
Inside, you have a number of options. You can either have a push switch that turns on all internal lighting for a set period of time, or the more popular and economically efficient option is to install PIR lighting. PIR lighting is triggered when someone crosses the beams from infra-red sensors which activates the lights for a set period of time, or as long as someone is in the room. Again, these can often be retrofitted to existing lights.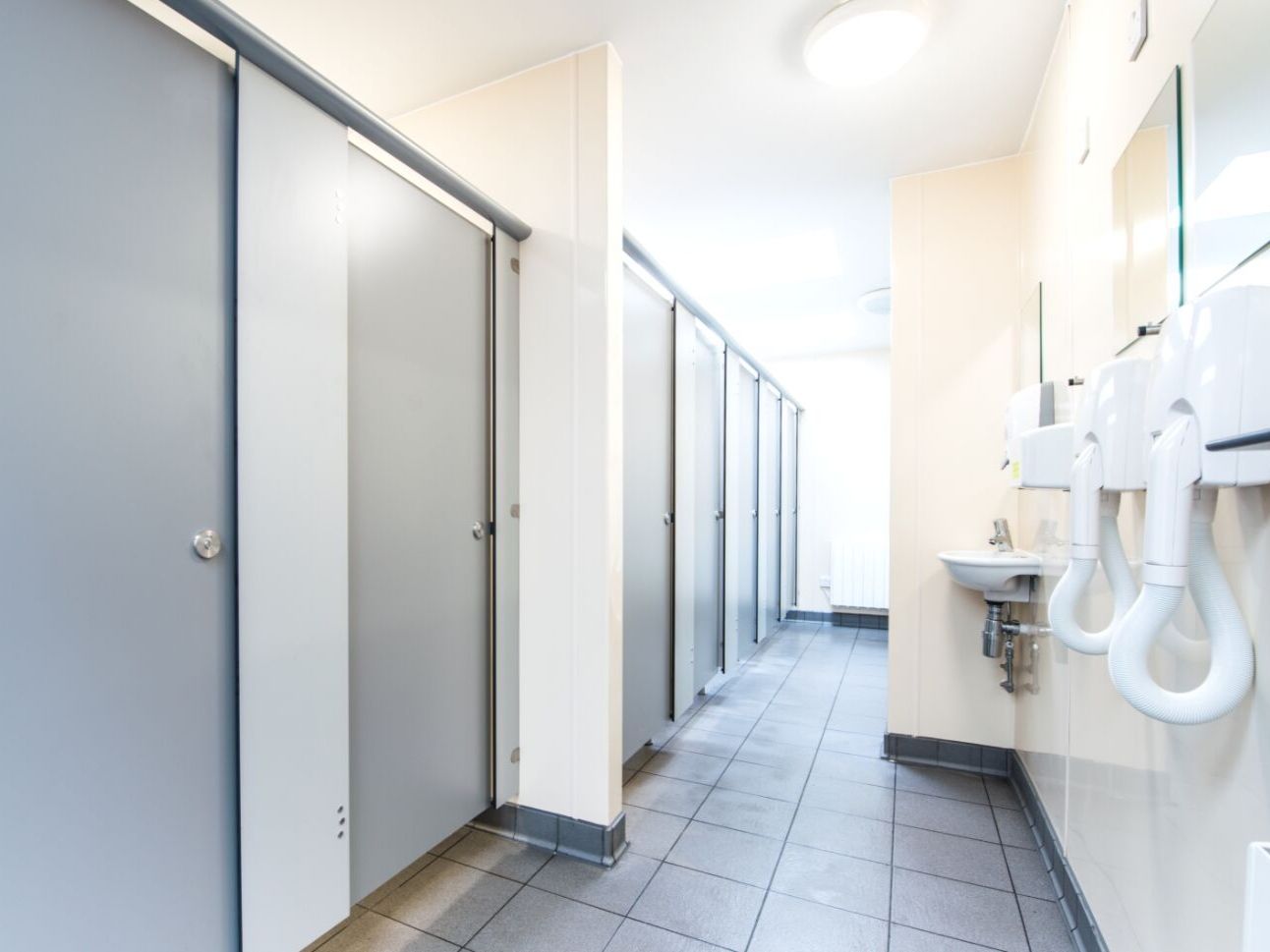 2. Can users find everything ok?
Guests need to know how to find the toilet and clear visual signage is important. Depending on your setting, you may feel the need to include signage in other languages as this can improve the usability and appeal of your campsite at a very small cost.
3. Are we giving users enough space?
Having enough washbasins is one of the most basic needs in your site, and following a few consecutive busy summers, you may be considering to increase the number of them. This is usually due to the peak times when every family on site wants to get their teeth brushed, makeup done, and chins shaved. And it's that last point that needs consideration. Today, it's not just electric shavers that use the bathroom plug socket and electric toothbrushes are now more ubiquitous than ever. If you are increasing the number of washbasins, try to incorporate more shaver sockets as well. 
At this juncture, you should also consider the storage space around each washbasin. Is there enough space for each user to place his or her wash bag and toiletries? Where the answer may be a no, an option could be to install a long shelf above the washbasins.
4. Is our flooring working for us?
Floors see a ton of action and get routinely pounded by the wellies, boots, and shoes of your visitors. If it's muddy out, then grit and dirt inevitably ends up all over the place and adds an extra abrasive element to that beating your floor takes. So flooring needs some careful consideration. Internally, you would do well to take a look at anti-slip safety flooring that goes down much like lino and can provide traction when wet. There are also safety floor coverings that have anti-slip properties that work with both wet shoes and bare wet feet (which isn't always the case).
Alternatively, you can find floor tiles that are immensely durable but still carry anti-slip features. The benefit of floor tiles is that individual tiles can be replaced easily without scarring the rubber flooring. However, there's a more important element to bear in mind when it comes to flooring. Cleaning.
5. Could we make this washroom easier to clean?
The entrance area to your washroom is where you can kick off and loosen all that aforementioned dirt and debris. Some washrooms have gone for an entrance section, or porch where space allows, that is floored with either a heavy-duty metal grill or a large deep-pile bristle matt. In muddier locations, or where there is no hard-surfaced path that leads to the washroom, you might also find old-fashioned boot scrapers outside the main entrance a good option.
You might also want to give consideration to installing floor drains within your washroom block so that routine deep cleans and hose-downs can be carried out quickly and effectively.
6. Should we offer a family bathing area?
With more and more families choosing to holiday at home in the UK, now is a prime time to take steps to attract them. The key to achieving this is a family bathing area. A dedicated bath in a private cubicle allows parents to keep the bedtime routine while still camping, and can be a big plus for prospective guests.
7. Is there enough dry storage for shower users?
Of course, people need somewhere dry to store their personal belongings and clothes while they shower, hooks and benches are the traditional option and work very well, but large format pigeon holes or lockers are also becoming more widespread.
8. Are we tackling chemical toilet disposal properly?
Without chemical toilet disposal points, site users are likely to empty the contents into your toilets. For obvious reasons, your toilets might not be capable of handling this kind of volume, leading to blockages and, in some cases, flooding. Your best bet is to provide ample, and well-signposted chemical toilet disposal points. Often this includes one outside the washroom block, and sometimes one or more closer to caravan parking areas.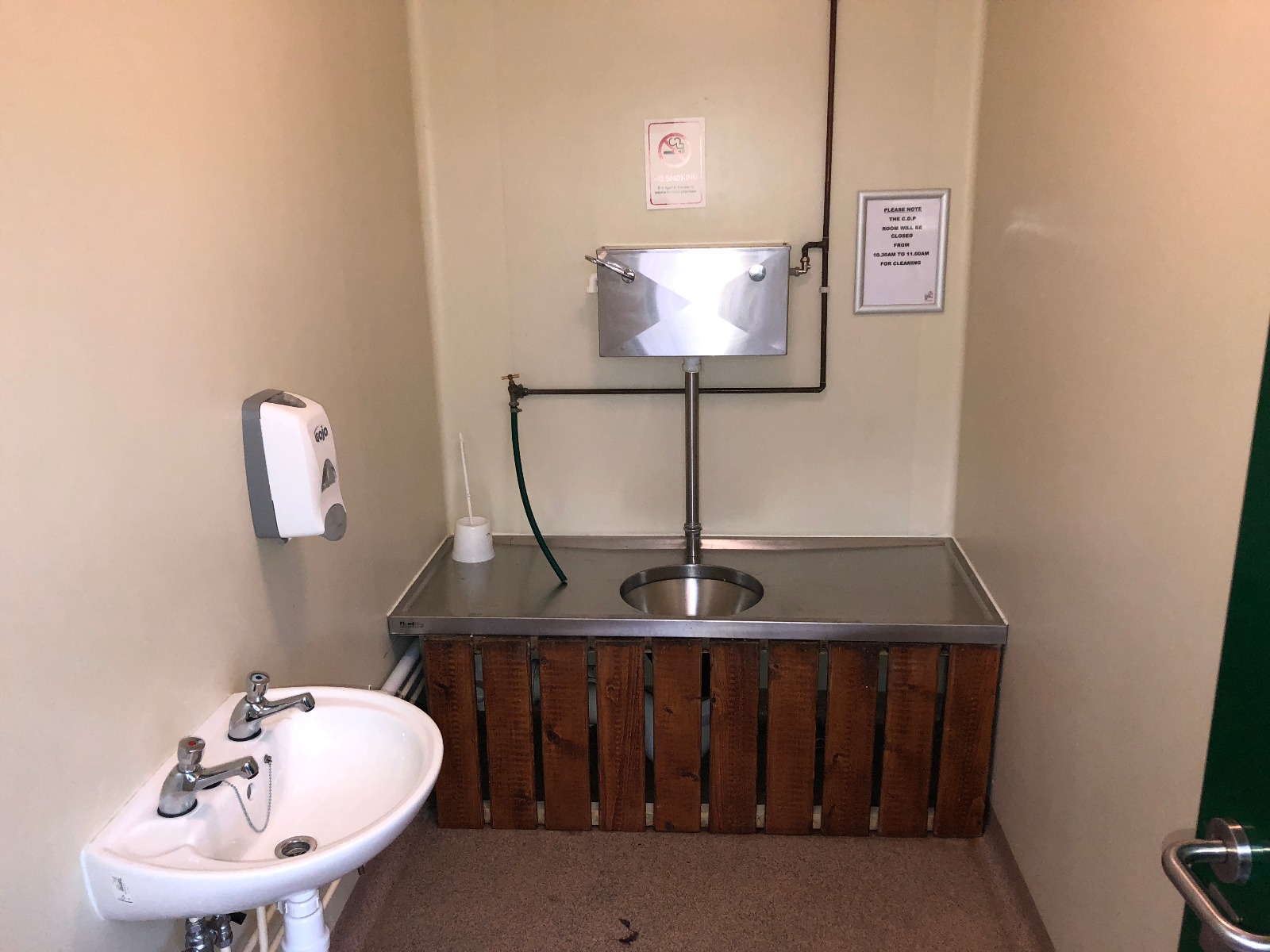 9. Are our washrooms accessible?
You'll want to make sure that you are making your current washrooms as accessible as you can and may choose to install additional grab rails. Steps should also be taken to ensure that all taps can be operated by users with impaired mobility. Sensor taps do a great job of this, while also reducing the risk of taps being left on absent-mindedly. If you are undertaking a new build, then you will need to adhere to Document-M, which you can read more about here.
If you would like further advice on upgrading your campsite or holiday park washrooms, or to take advantage of our custom 3D design service, please get in touch on 01202 650900.