Your One-Stop Shop for Commercial Washroom Products and Advice.
At Commercial Washrooms, we specialise in the sale of commercial toilet products, commercial plumbing supplies and washroom accessories to our customers throughout the UK.
Open to both trade and public customers we pride ourselves on selling carefully selected and, where possible, eco-friendly products for use in commercial washrooms such as school toilets, office toilets, public toilets, entertainment venues & hospitals among many others.
Be it a ready-to-fit refurb or helping with designing a completely new build, & regardless of if you are an individual looking to make a single purchase or a facilities management company looking for to register an account, we can supply to all!
Our many years of experience ensure we are the best place to support your enquiry from both the technical knowledge behind the products and also ensuring it hits the mark aesthetically. Whether you are looking to reflect your brand and build a modern chic washroom experience, or are instead prioritising the functionality and longevity of your facilities, we have the products to match.
Breaking Down your Project into Manageable Chunks
Our established ties with some of the leading suppliers across Europe ensure we can bring you the most up-do-date washroom products, whilst backing these up with reliable and long-lasting guarantees. 
Furthermore, these connections can ensure we remain extremely competitive when it comes to the prices of the individual components. Get in touch to see what we can do for your Commercial Washroom refurb.
Stuck for Inspiration? We're Here to Help!
From both a project understanding and design perspective, we understand how daunting washroom refurbishments can be. Whether its answering questions on Anti-vandal solutions and odour control, all the way through to ensuring enough pivoting space exists within a cubicle, the questions can seem endless.
With over 20 years of experience in working with customers to configure their ideal commercial washrooms, we have the understanding to help you do the same! Whether it is a specific product based query or an entire quote that you're after, our team are best placed to assist you.
Our Virtual Showroom is the best place for you to start dreaming of your new washroom. Utilising the best of not only our staff's knowledge but also leaning on the expertise of the suppliers we work closely with, we bring you the most current and up-to-date, relevant and on-trend products.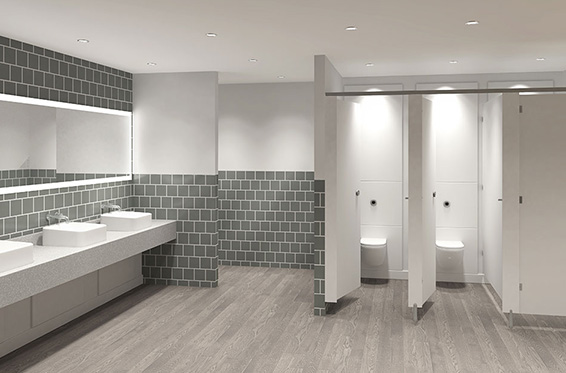 Our ranges of cubicles are designed to fit a wide variety of environments and as such come with various benefits and features. From varying material differences to colours and finishes.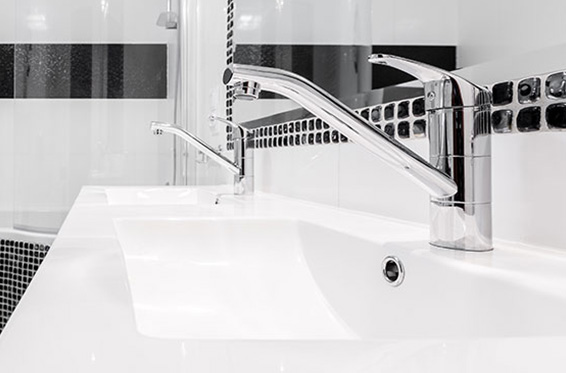 Vanity units can be an eye catching solution to help add an instant wow factor into any washroom. Alongside this, they are also an easy to clean and maintain ensuring long lasting quality.
Project Ideas and Expert Advice
Whether you require a project checklist, key facts regarding essential regulation, product top 10s or project inspiration, then our resource centre is the best place to start.
Pulling together topical Blogs, specific FAQ's & Case Studies from a range of industries, we are always adding to this. Be sure to check it out regularly to stay up to date with what we're talking about.
Blog

Flooring and wall cladding are imperative to lasting commercial wash spaces. Get it right, and they will deliver rugged durability, anti-slip properties underfoot and give you ease of cleaning long into the future.  With such extensive experience in the field, we knew from early on where that impeccable quality and durability was found, which is why we are excited to announce our new partnership with Altro.

Read more
Knowledgebase FAQs

Wheelchair users should be able to approach, transfer to and use the sanitary facilities provided within a building.  This requires the provision of a wheelchair-accessible unisex toilet. The following article explores the dimensions required according to Doc M of the UK building regulations.

Read more
Case Studies

Commercial Washrooms prides itself on the many different environments that we have transformed. The London office of an International trading house, requested a stylish refurbishment for 4 of their toilet rooms and a loft conversion, to create a prayer room for their Muslim staff.

Read more
The full service commercial washroom supply company
Commercial Washrooms is an established subsidiary of Lan Services Ltd and previously known as Eco Washrooms. Initially created in 2010 as a small spin off from the parent company, Eco Washrooms developed into a significant online business. The success of Eco Washrooms created the need to develop a more sophisticated and better presented website, thus commercialwashroomsltd.co.uk was born.
The parent company, Lan Services Ltd, is a family run affair; established in 1998 as a specialist contractor with a focus on full refurbishment and fit out of commercial washrooms – primarily toilet facilities and changing rooms. These projects are carried out in multiple sectors, including education, offices, healthcare, entertainment and leisure.
The background and experience gained by all staff places us in an ideal position to advise on the most appropriate materials and products suitable for any commercial washroom setting.
Our head office base is Poole, Dorset and we operate a secondary office from Bexley, Kent which covers the London and SE region. Commercial Washrooms has no geographical limitations on supply thanks to our partner relations with several courier organisations.