The dimensions and sizes required for a toilet cubicle can vary. Getting them right is a matter of importance not only for the comfort of different users, but to comply with Building Regulations in the UK.
Of course, commercial wash spaces come in all shapes and sizes, and we don;t always have the luxury of new build or open plan spaces. However, despite the restrictions some buildings might be subject to, it's important to consider cubicle sizes for ambulant cubicles and disabled toilet rooms. All new build premesis must comply with Document-M of Building Regulations UK, and for existing buildings you are expected to deliver the most accessible washrooms possible. What follows are the standard dimensions for commercial toilet cubicles. If you would like firther advice and assistance, please get in touch. 
What is the minimum size for a toilet cubicle?
All standard cubicles should have a 450mm diameter manoeuvring space within the cubicle. The recommended internal width of the cubicle is 800mm wide and the recommended internal cubicle depth is 1500mm deep. Doors are typically inward opening with an opening of approximately 600mm wide. However, these are minimum, or 'standard' dimensions, and these sizes are often exceeded for design and usability purposes.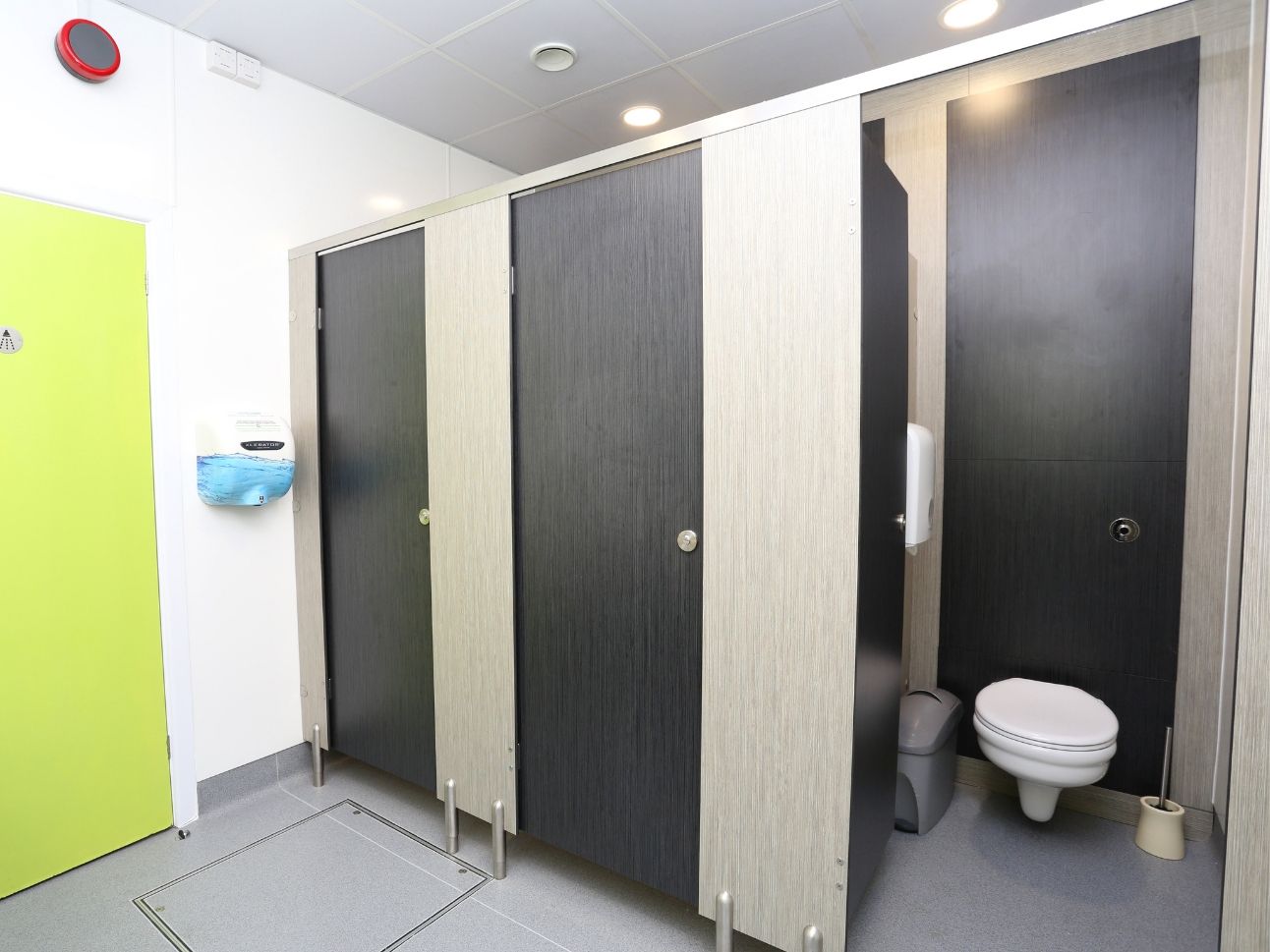 Ambulant disabled toilet cubicle dimensions
Every toilet room should have at least one toilet cubicle that is suitable for ambulant disabled use. If there is only one cubicle in the washroom then this must be suitable for an ambulant disabled person. The ambulant cubicle must include an outward opening door and have grab rails installed to the sides of the cubicle.
Standard Dimensions - 850mm wide x 1500mm deep (800mm minimum width between surfaces)
Door Type - Outward Opening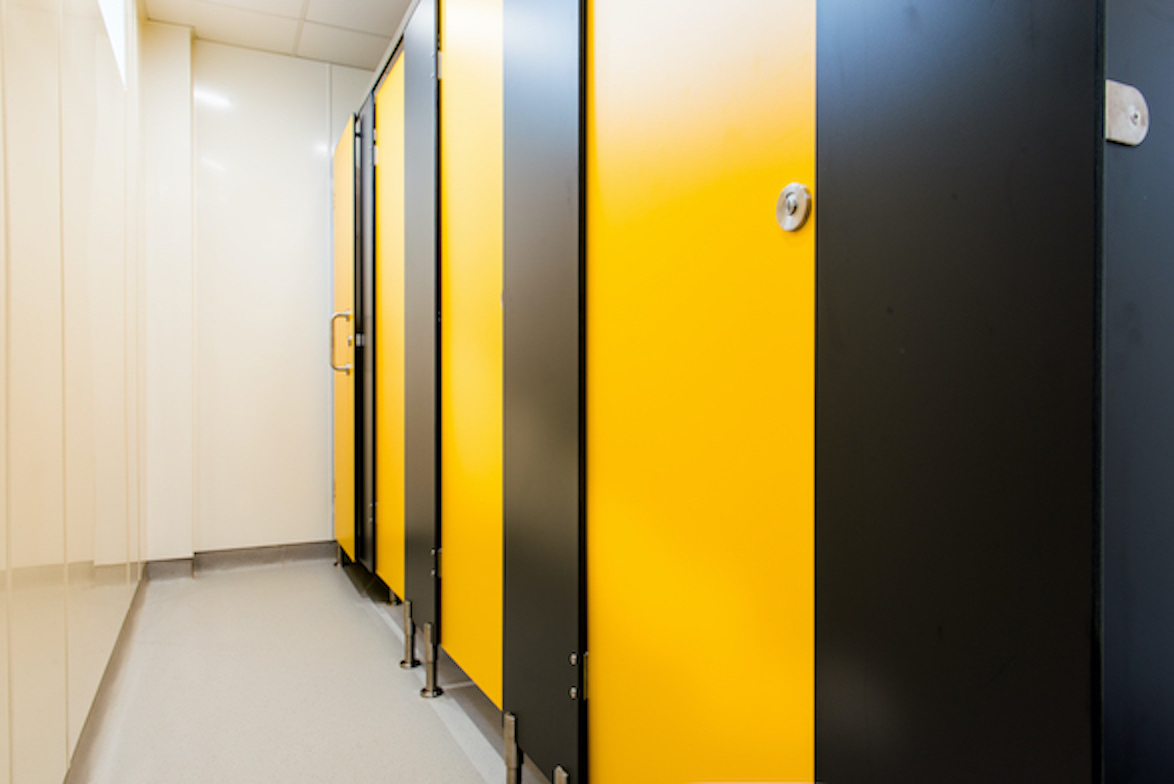 Enlarged toilet cubicle dimensions
Where 4 or more cubicles are provided in a run within a toilet room, one of these should be an enlarged cubicle. Enlarged cubicles must be a minimum width of 1210mm wide and to include an outward opening door.  A horizontal and vertical grab rail is required surrounding the pan. Enlarged cubicles may offer baby changing facilities.  It is important to note the enlarged cubicles and baby change stations should be provided in both male and female toilet rooms. 

Standard Dimensions - 1210mm wide x 1500mm deep (1200mm minimum width between surfaces)
Door Type - Outward opening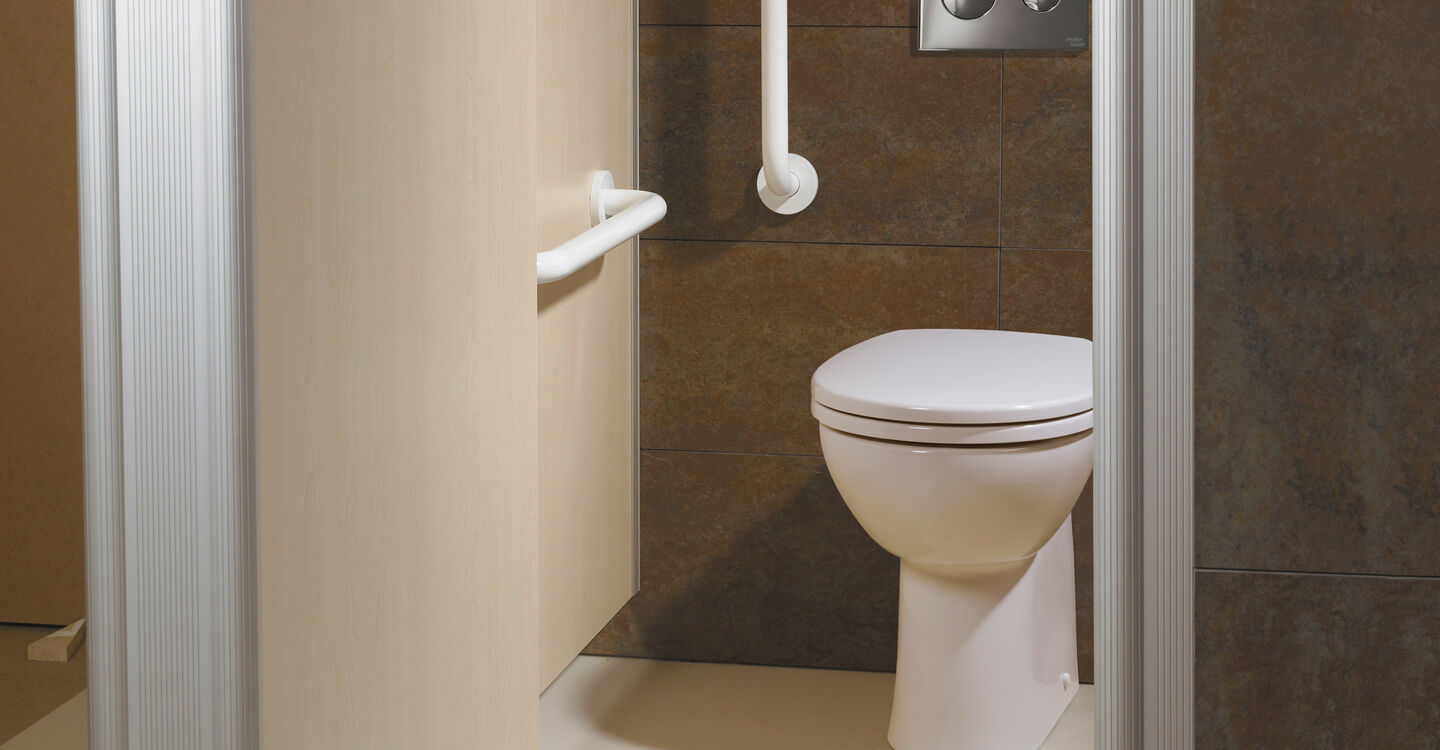 Wheelchair Accessible toilet room dimensions
The disabled wheelchair accessible layout has been recently modified to accommodate an overall toilet cubicle length of 2220mm. The door opening needs to be 900mm with a 950mm (wide) outward opening door.  This room should be fitted with a Doc-M toilet pack and should be compliant Document-M of the building regulations. Disabled toilet dimensions also include instructions on where to locate certain features, as well as the required space for manouvring.
Standard Dimensions - 2220mm wide x 1500mm deep
Door Type - Outward opening
It is important to note when installing IPS panel systems to conceal the disabled toilet cistern, the measurements for the room should be taken from the front of the panel system.  Maintaining the required dimensions of 2200mm x 1500mm should be a priority over installing IPS panel duct sets.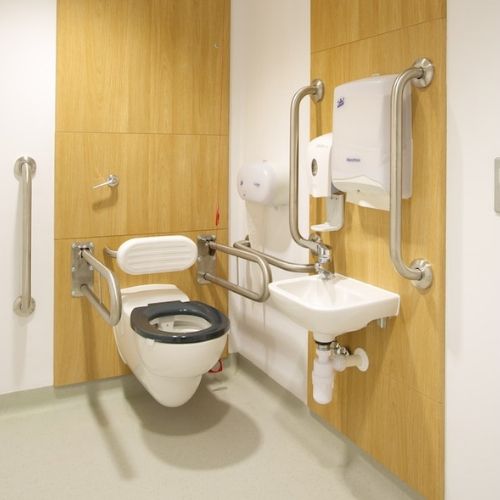 Please note, these are all 'standard' sizes the majority of our toilet cubicles are made to measure to fit your precise site dimensions. We offer a full Washroom Design service that many customers utilise in order to best plan the washroom space available as well as ensure compliance with regulations and industry standards.
As always, our team is at the end of the telephone for all your queries and questions and has a wealth of knowledge they're happy to share with you. So if you need some guidance, or would like to talk over your options, you can give them a call on 01202 650900.
GET IN TOUCH WITH COMMERCIAL WASHROOMS TODAY