Commercial Washrooms & Delabie
About Delabie
Spring / 2019
Delabie was founded in 1928 and has been producing great service, and even greater product, ever since.
The company started off by producing taps and floor traps for bathrooms and kitchens but has since developed providing many more products, including wash basins, showers and TMVs. 
Initially, Delabie specialised in domestic sanitary fittings and quickly repositioned themselves into commercial sanitary fittings. In less than 100 years Delabie has become the leading company in non-domestic sanitary fittings.
Delabie started as a family-owned business and has been passed through generations, excelling further every single year. Although their presence is mainly in the UK, and surrounding European countries, their sales also extend to Dubai and even Hong Kong.
The main factory is based in France and they are considered a European market leader in water controls and sanitary equipment. In other words, their story has only just begun...
Delabie: Water Controls for Hospitals
Spring / 2019
For many years we've proudly been working with Delabie, offering their products to commercial customers all over the UK.
Their attention to detail when it comes to development is second to none and what you get with water controls that bear this name, an assurance of water safety and robust build quality – the perfect combination.
We thought we'd share some of the things that separate Delabie from the crowd, and highlight features you might not be aware of.
The brand has come a long way since its French beginnings back in 1928, and has firmly established itself as a key player in the commercial washrooms, shower spaces and rinse down stations of hospital and healthcare facilities all over the world.
Showcasing Quality
Delabie's Showroom
Spring / 2019
Delabie's showroom receives thousands of customers each year. Spread over three separate levels, Delabie's showroom allows visitors to discover the quality within the company's products, as well as, informing them on how they work.
The showroom can also be fully functional as a training centre, teaching new and current employees about the latest innovations developed by the research department. 
Delabie's products are represented in a range of environments at the showroom (such as leisure centres and operating theatres), with wall-mounted displays and dedicated spaces.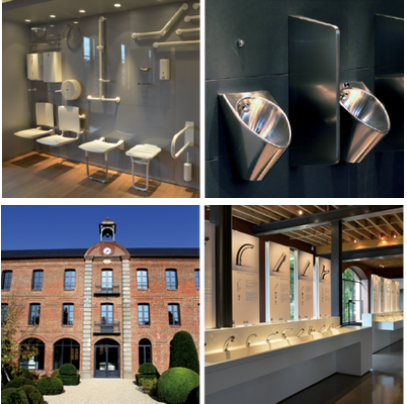 The mixers and taps used as examples are mounted onto test benches and are fully operational. This means that visitors can test all kinds of models in all kinds of situations.
Delabie also created the 'Delabie Foundation', in 2005, which finances projects which provide access to safe, clean drinking water for the poorest and most vulnerable countries. Delabie also funds many wells, boreholes and sanitation blocks, mainly throughout Africa.
Over 3 billion people worldwide still do not have access to clean water and Delabie are trying to change that with their funds and projects to help lesser countries to stay safe.
Taps, Showers & so much more...