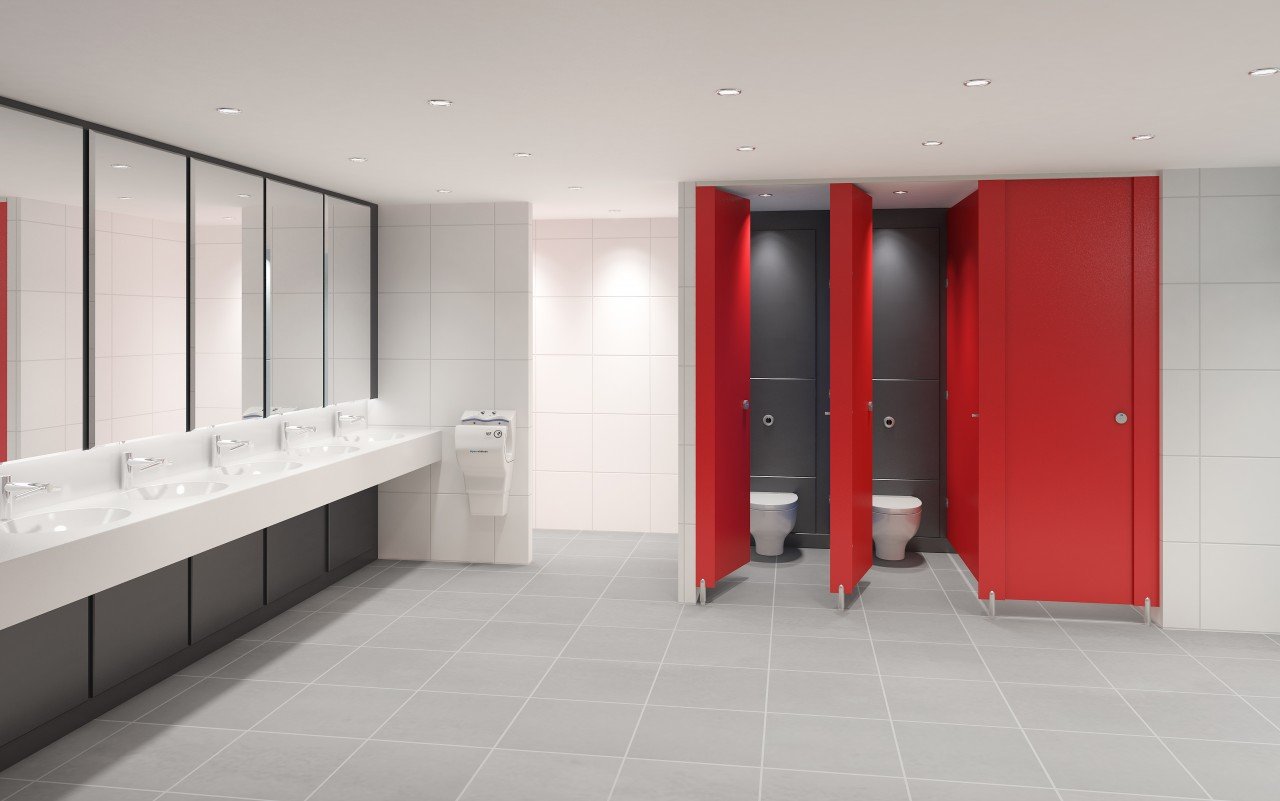 Stature Corporation is a unique washroom design concept in that it is inspired by a recently complete gym changing room refurbishment. Red and grey was the inspiration for The Junction Sports centre changing room refurbishment project, more images and details about this project can be found here.
Stature Corporation is designed to be hard wearing yet uncompromising in regards to features and style. Particularly where the business wishes to reflect their corporate style in the design of the washrooms. Suitable for commercial washrooms that will experience frequent and heavy use, by customers and employees alike. Such as gym or swimming pool changing rooms, cinema washrooms, or public toilets within shopping centres.
Featuring full height solid grade laminate (SGL) toilet cubicles, the toilet cubicles are hard wearing and feature heavy duty furniture and fixings making them resistant to instances of accidental damage or vandalism. Solid grade laminate is also impervious to water and so suitable for toilet cubicles adjacent to wet areas or even for use as shower cubicles.
This particular washroom design features lighter coloured tiles, which balance the dark of the grey vanity unit underframe and duct panels. The single flash of red on the toilet cubicles brighten the room and form an accent and focal point within the design.
Premium features which also suit the hard wearing yet stylish design brief include a solid surface vanity unit with integral basins, solid surface vanity units benefit from being constructed of an extremely tough mixture of filler, pigments and resin. Meaning that it too is impervious to water and resistant to staining, but if damage does occur the vanity top can be filled and repaired on site.
No touch toilet flush, sensor taps and hands in dryer ensure that all the features of the washroom aside from being hard wearing and stylish are also hygienic, and require the users to touch as few bathroom fixtures as possible during the use of the washroom.