Whether you're dealing with a secondary school or university campus, or a corporate law firm in the heart of the city, contemporary washroom design has come a long way in recent years. With a strong emphasis on making them easier to clean, as well as massively improving usability, the washrooms of today can also help save water and electricity, while delivering a smart modern aesthetic. 
One of the fundamental aspects of how washroom design has evolved is the use of vanity units. Below, we delve into some of the dramatic benefits they can bring:
Slick storage solutions
While a bank of wall mounted wash basins might keep the floor space clear, it leaves you with little to no storage. What's more, it also leaves you with a certain amount of exposed pipework. Quality vanity units can deliver you secure storage space that can be utilised for everything from toilet rolls, to paper towels. You may also choose to use counter mounted soap dispensers, where several can be fed directly from one main liquid soap reservoir stored within the vanity unit. Additionally, some sites might choose to incorporate a discreet waste chute opening on the counter surface, with a waste bin concealed in a compartment underneath. This allows you to keep your washroom looking very minimalist and clean.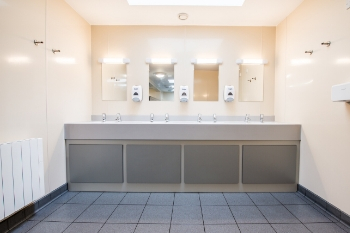 Wash trough mounting
One of the latest strides in commercial technology, and a popular item across all sectors, is the wash trough. This large-format communal wash basin means you only have to deal with one waste outlet and often sees both taps and dispensers all mounted on the wall directly above it. Vanity unit underframes can be purpose-built to carry a wide variety of wash troughs, meaning you still benefit from the under-counter storage, while simultaneously enjoying the benefits of a wash trough. 

Clever counter space
The worktop surface of today's vanity units varies considerably. Solid surface counters with pre-moulded washbasins are a dynamic and durable choice that leaves a truly seamless finish. Of course, you can also opt for inlayed, recessed and lay-on basins each delivering a different feel, look and finish to your washroom. By choosing an open countertop, you allow for more space surrounding each washbasin, which can be a benefit for users who might want to shave, use make-up, or place toiletries. The important thing here is to think about what your users need at the hand wash area and plan your layout accordingly. 

Ample access
Wall-mounted or pedestal hand basins leave a lot of exposed pipework, and even when this is tidied-up or concealed routine maintenance can be difficult as well as time-consuming. With vanity units, all the main services can be accessed simply by removing panels from the front or sides. For busy, high traffic environments, this can be a great foresight to consider. 
A custom approach
When working in confined or difficult spaces, or dealing with a room of unusual dimensions, it can be much easier to work with the bespoke nature of vanity units. This allows you to work with your available space in a much better way and ensure that you deliver the facilities needed for your organisation. 
If you would like further advice, or to talk about installing a new vanity unit into your existing washroom, get in touch with one of the team on 01202 650900