Some people's impression of a commercial washroom is often plain, clinical and somewhat boring. However, today there are countless options available to the commercial client and everything from vibrant splashes of colour to inset lighting can be incorporated without compromising on durability, cleanliness or facility hygiene.
Embrace colour in the washroom
Solid Grade Laminate (SGL) and High-Pressure Laminate (HPL) both come in a huge range of colours and can be matched to existing colour schemes, allowing you to follow your corporate colours through to the wash space. Colour is certainly one of the easiest ways to breath life into your washroom. SGL is commonly used for wall cladding, concealing duct systems and the construction of custom-built vanity units. This allows you to have hard-wearing, completely water-resistant colour throughout your wash space.
Images and etching
You may decide that full height landscape photography might be fitting for your business's washroom, which can be achieved in a durable vinyl wall covering printed with your choice of imagery such as a refreshing pine forest, or a breathtaking panoramic shot of the ocean. Another benefit of this vinyl imagery is that it can be retrofitted to existing surfaces as well as new constructions.
It's also possible to have your logo or writing etched into SGL cubicle doors and wall panels, as well as cubicles made from a highly durable reinforced glass. To find out more about our custom etching, drop us a line on 01202 650900
Toilet Lighting
Beyond standard ceiling lighting, the commercial environment is just as versatile as that in the home. Inset lighting can be fitted within wall panels and in some cases such as cinemas, bars, restaurants and hotels, lighting is sometimes fitted at ankle height for a diffused understated look, which can work very well with reflective floor tiles. Mirrors are an obvious area where a big impact can be made through lighting.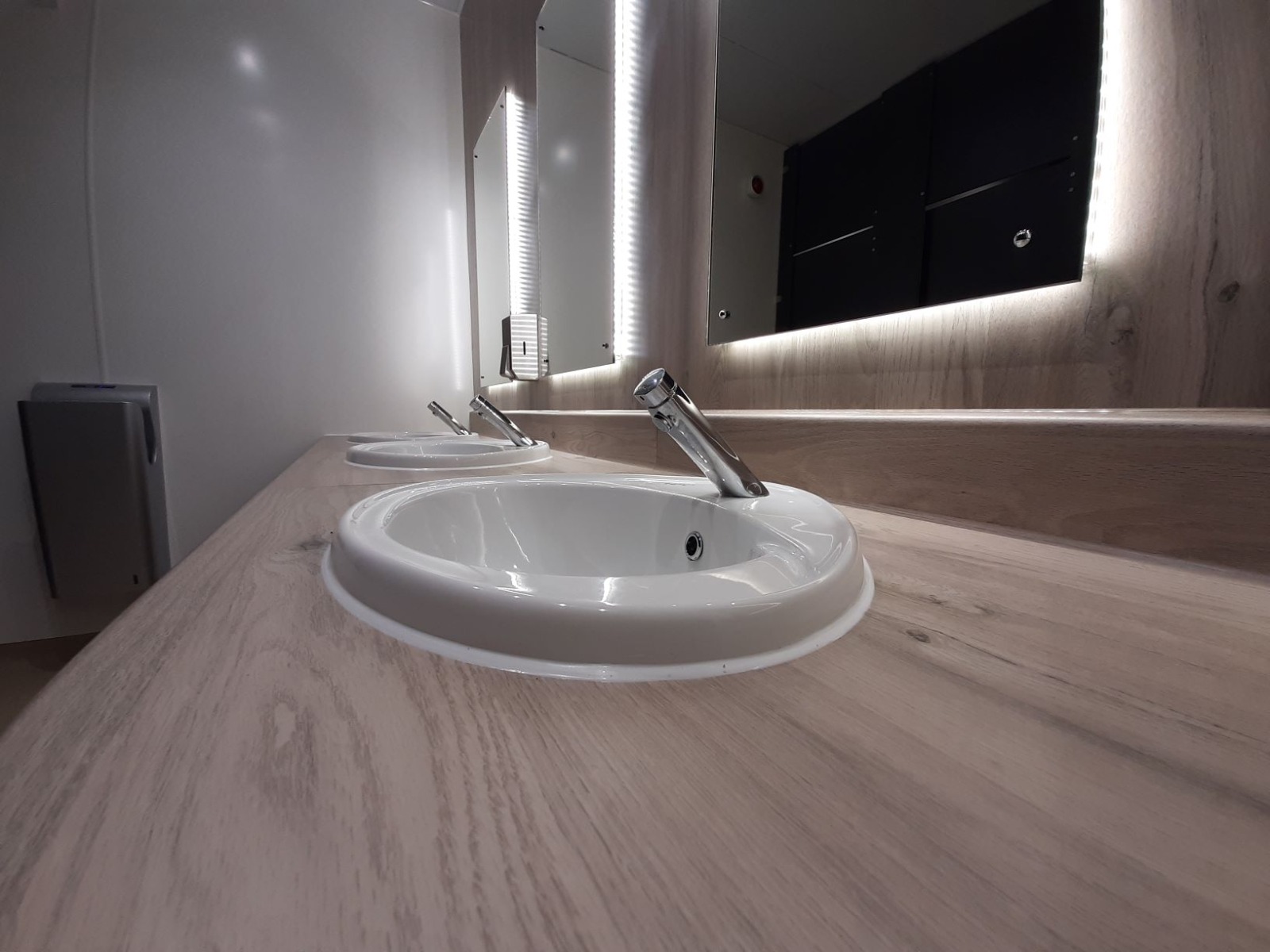 When considering the lighting in your washroom, give thought to the colour tones of the bulb and the softness that can be achieved through various whites. If you are working with a washroom that has little or no natural light, you'll want to pay particular attention to how lighting works with certain colours.
Bespoke features
We offer a lot of bespoke services and over the years have made everything from light fittings fashioned from salvaged bells to post-modern solid surface vanity tops with inset wash troughs. A simple framed picture can significantly change the mood and atmosphere of a room, while diffused lighting, well-placed mirrors and restored original cubicle doors all work to create a unique space.
Wall tiles can also be taken in a playful direction, either by using reclaimed tiles or opting for a mosaic feature wall or section in the tiling.
No matter what bold or niche design ideas you might have for your washroom, we are able to accommodate them seamlessly into modern and efficient commercial wash spaces. If you'd like to discuss personalising your new commercial washroom, or learn how we can cater to your bespoke needs within a planned refurbishment, please get in touch on 01202 650900.