A shower at work may have originally sounded like something of a luxury, but today the corporate showering facility is no stranger to the workplace than the coffee machine. There's been a big push recently with businesses striving to create brilliant working environments for their employees, which not only improves morale and productivity but also helps staff retention.
So why the shower?
There are several arguments for the office wetroom or shower. If employees want to cycle or run to work, you give them the means to freshen up before beginning work. The same is said for those that visit the gym in the morning or on their lunch breaks. Many forward-thinking companies also offer fitness or yoga classes in the morning on-site or have company sports teams that train and practice during lunch hours – all proven ways or building an engaging corporate culture.
Ok, what options are available to me?
There are several options that are available if you are looking into adding commercial showering facilities, each dependent on your available space.
If space allows, then a small bank of two shower cubicles can work in both the male and female washrooms. However, in some cases, particularly in smaller businesses, just one separate shower room is created. Large storage cupboards can be converted into single shower rooms, or sometimes space can be nipped away from existing washrooms.
The wetroom is a popular idea when carrying out complete refurbs. By creating a complete wetroom means the room is both functional for day-to-day washroom traffic, and showering units can be installed without trays. It also makes deep cleans, hose-downs and sanitising incredibly easy as you have the benefit of a floor drain or gulley.
Recessed showers
Recessed shower controls can bring a very slick, smart aesthetic to your washroom as everything is sunken into the walls creating a seamless, contemporary finish. Items like this Inta push-button control fit flush with the wall and offers fantastic usability due to single-action control and adjustable timed flow. With recessed shower controls and heads, all the pipework between them is either chased into the wall and covered with plaster and tiles or hidden behind a thin ducting system, which is like a waterproof false wall. This latter option makes service and maintenance much easier to carry out.
Surface-mounted showers
Mounting all your shower controls on the surface is another popular option. This entails bringing the mains water feed to the unit only. Surface-mounted showers often offer more flexibility, especially as the conventional shower head can be taken off and used by hand, much like a domestic home shower.  Items like the Mira Sport electric shower are a powerful choice for smaller, but busy commercial shower facilities.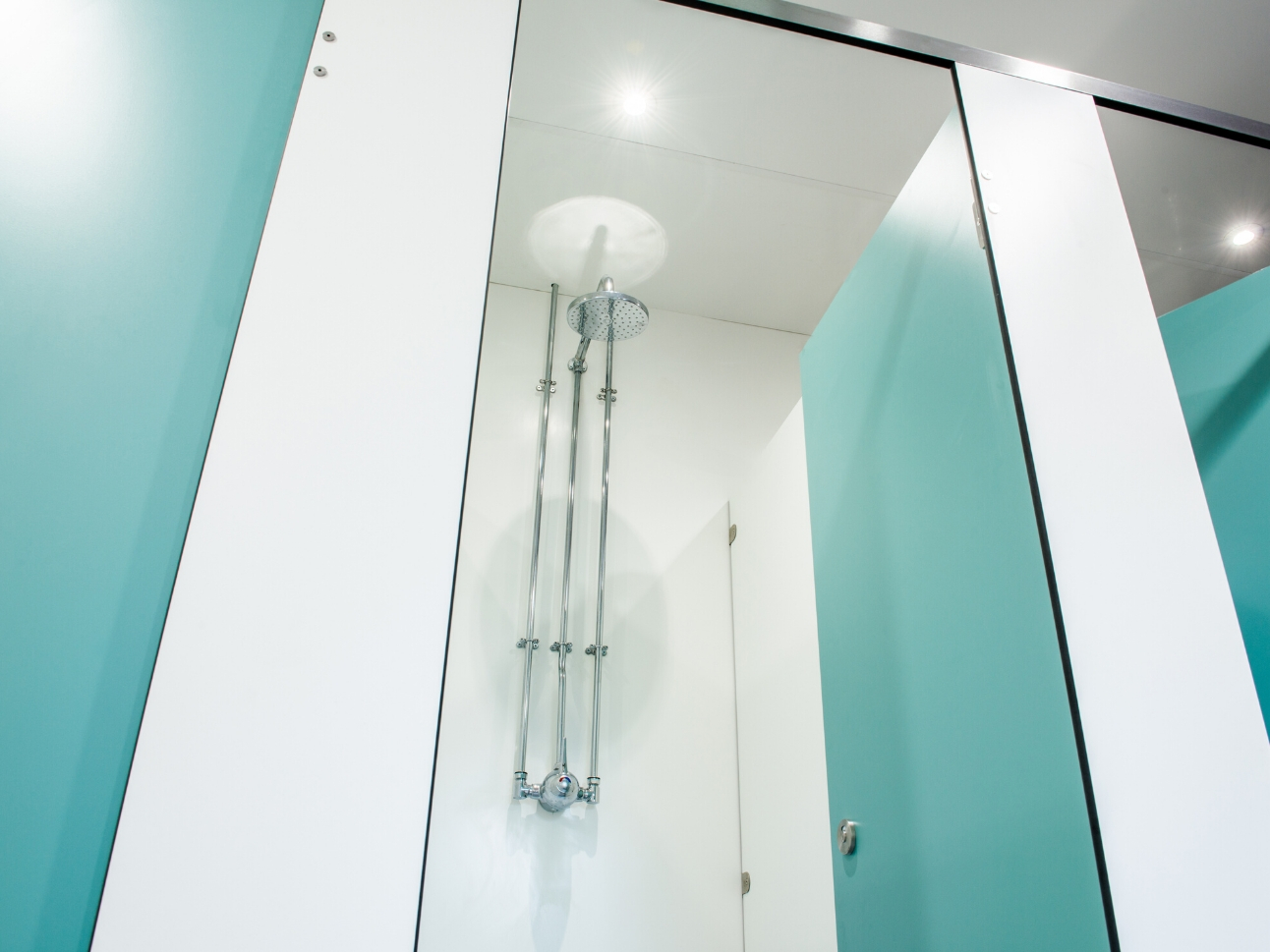 All in one units
All in one shower units are arguably a more secure wall-mounted option and encases all the pipework within a protected cover. This gives your shower enhanced durability and keeps the room looking neat, with no dangling flex hoses on show. Maintenance and installation are also much easier to carry out and is an ideal choice if you are converting one of your toilet cubicles into a showering one.
Do I need to refurb the whole washroom?
Not at all. Many companies are choosing to retrofit shower facilities. This means replacing some existing toilet cubicles into showering cubicles or using up surplus space within their premises. Large store cupboards are a popular choice for stand-alone shower rooms, which are often big enough for a single shower, washbasin and changing area. Our Project Team can help with this - read more about our refurbishment services.
What are my responsibilities?
You'll need to ensure that water temperature is regulated to a safe degree. TMV3 valves can be installed to do this, blending both hot and cold feeds of water, and accurately controlling the temperature of the water being emitted from the shower. This removes the risk of users being scolded by hot water.
If you are looking at replacing toilet cubicles for shower cubicles, then you'll need to make sure you are still providing enough physical toilets for the number of employees, or visitors you have in the building at any one time.
When transforming an underutilised store cupboard or similar, you'll need to think about ventilation as the steam and humidity created from running a shower will need to escape the room so as not to cause problems of damp and mould.
Anything else I need to bear in mind?
If you are converting one of your cubicles, then you'll need to make sure you have changing space within it too. Therefore the space of two regular toilet cubicles will ideally be needed to accommodate both changing space and a showering area.
In wetrooms, benches and hooks will be required to keep users' dry clothes off the ground. If you are considering a more extensive transformation of your washrooms and want to provide a more complete showering facility, then considerations should be made for lockers and storage, as well as making sure the existing drainage from the room has the capacity for the increased water flow.
If you would like to talk about how a wetroom or corporate showering could be integrated into your existing washroom or to take advantage of our custom design and 3D imaging service, please get in touch today on 01202 650900.