Designing and specifying the correct washroom products, sanitaryware, brassware, and other furniture to include in a disabled toilet refurbishment project is a core service Commercial Washrooms offer.
All disabled & accessible washrooms are required to comply with the Equalities Act of 2010, by following the guidance set out within the building regulations Approved Document M: Volume 2 - Buildings other than dwellings, BS 8300 standard, and the National Planning Framework.
The information contained within this blog post aims to provide a guide to designing and specifying a disabled washroom or toilet room to comply with the Equalities Act of 2010. This should be used as general guidance and is published in good faith with no obligation, and no warranty as to the suitability of the information expressed or implied.
What is LRV (Light Reflectance Value)?
References within this FAQ are made to visual contrast which is measured by LRV, which is the acronym for 'light reflectance value'. The LRV of an object is a measure of the quantity of visible light at all wavelengths that is reflected from the surface when illuminated by a light.
In disabled accessible toilets, the difference in two objects LRV values is used to ensure that the visual perception of one element or fitting against another is sufficiently different, ensuring contrast between these objects makes the toilet room easier to use for those with various vision-related difficulties.
Currently, the recommended difference in LRV values of two surfaces should be greater than 30 points. Where rooms provide adequate illumination measured to greater than 200 lux an LRV value no less than 20 would be acceptable. If further information or clarification is sought please refer to Document M - Part 2 and BS 8300 7.2.5
In practice comparing LRV values to comply with the regulations will prevent installers from fitting fixtures and fittings on to the fabric of the building where the colours are similar. For example, mounting white grab rails on to white walls which would be too difficult to perceive for some users. For more information on LRV (light reflectance value) please click here.

What Will Affect the Disabled Accessible Toilet Specification
The modern disabled accessible toilet specification comes down to a number of variables which need to be decided from the outset, similar to any other washroom refurbishment they include:
Users; will they be staff, clients, guests, or other visitors? What are their particular needs (if apparent and known)?
Aesthetics; is the washroom front of the house? Does it need to make a statement?
Durability; are they required to be vandal resistant?
Duration; which toilets can be taken out of action. A typical disabled toilet refurbishment project will likely take between 1-2 weeks to complete, are other available facilities on site?
Budget; finally is the budget realistic with regards to the other variables?
The areas of the specification which need to be decided on include:
Disabled Toilet Ceiling
Ceiling options include suspended ceiling, plasterboard with paint and decorate finish, etc. Adequate provision should be made for suitable lighting to aid those with vision difficulties including the elderly. Energy-saving LED lights should be sufficiently bright and provide an emergency back up system, and if planned as part of a green strategy PIR lighting should be considered very carefully and correctly specified from the outset.
PIR controlled lighting can be a fantastic energy-saving addition to any washroom by preventing the lights from being left on when not in use. But within disabled toilets, specifically, the timed delay until the lights turn off is often not sufficient time for users with severe mobility issues to finish using the facilities. It is also often not easy for these users to re-trigger the PIR and turn the lights back on.
Whilst installing the ceiling it is also an opportune time to install a switched fused spur for the required emergency assist alarm kit, if not currently available.
Disabled Toilet Flooring
Options for Doc-M disabled toilet compliant flooring include non-slip vinyl or non-slip floor tiles. In a disabled toilet setting Commercial Washrooms typically recommend non-slip vinyl over tiles. The uniform flat surface is easier to clean and there is no grout to collect dirt and provide a breeding ground for germs.
The quality of finish achieved is often similar, but vinyl is less expensive to supply and install, and a 'tanked' finish can be achieved, with vinyl running up the wall, Providing an easy to maintain and more water-resistant surface than tiles meeting skirting or wall tiles in a tight angle.
It is very important to achieve a slip-resistant finish to the washroom floors so as to avoid users and occupants slipping. Elderly users with limited mobility are at particular risk of slipping as are carers who may provide physical support for disabled visitors. The flooring should also contrast visually against the walls.

Disabled Doc-M Washroom Walls
Wallcovering options for disabled toilets include wall tiles, wall cladding, and wall panelling systems.
The general rule of thumb is that the harder wearing wall finishes will increase the overall cost. This usually has a payback, however, in ease of maintenance and longevity of washroom life. Tiles again are usually at the high end in terms of cost for supply and install, and modern washroom design is moving away from tiled surfaces simply because of the cost and hygiene considerations.
Flat smooth surfaces such as wall cladding are much easier to clean and maintain.  Wall cladding such as Whiterock by Altro, Jemic Hygienic Cladding, or other similarly specified products is usually the preferred choice for our own disabled washroom refurbishment projects.
These wall cladding systems are also provided in a wider range of colours than tiles, so specifiers and designers of disabled toilets can still remain compliant with Doc-M and BS8300 in terms of maintaining visual contrast whilst exploring more interesting and vibrant colour schemes. When planning on painting existing door frames, ensure they contrast visually with the surrounding wall to comply with current legislation.
If light switches are provided as an alternative to PIR controlled lighting buttons should be large and easy to use by people with limited dexterity. Large green and red (on/off) push pads are available for this purpose. The mechanism should also contrast visually against the wall.
Toilet Cubicles and Panelling
Toilet cubicles and panels are rarely needed in single-occupant Doc-M washrooms, but panelling such as IPS panels or duct sets can be used to conceal plumbing pipework, cisterns, and other fixtures.
Typically they are only specified where the walls are uneven and the size of the room allows them to be installed so that the addition of the panelling does not reduce the open floor area to less than the minimum prescribed area for a disabled toilet room. They are only required where back to wall or wall hung toilets are to be installed.
IPS panels and duct sets covering the walls must still contrast visually with the floor, even if they are a different colour to the side and front wall. They must also contrast visually with the sanitary ware, grab rails, and any other fixture or fitting attached to them for use by the disabled toilet occupant.
Commercial Sanitary Ware
Options are vast and vary predominantly dependent upon the design and client budget.
To ease compliance Commercial Washrooms sell Doc-M packs. To discuss all the intricacies of a Doc-M pack would be beyond the scope of a specification based blog since every basic need for a Doc-M compliant disabled toilet will be covered in the pack.
Choices of Doc-M pack are categorised by the toilet style (closed coupled, low level, back to wall and wall-hung) and the grab rail colour option. Grab rail colour options are typically a choice between white or blue, but increasingly higher-end Doc-M packs also offer the choice of grey, dark grey, satin stainless steel, and polished stainless steel.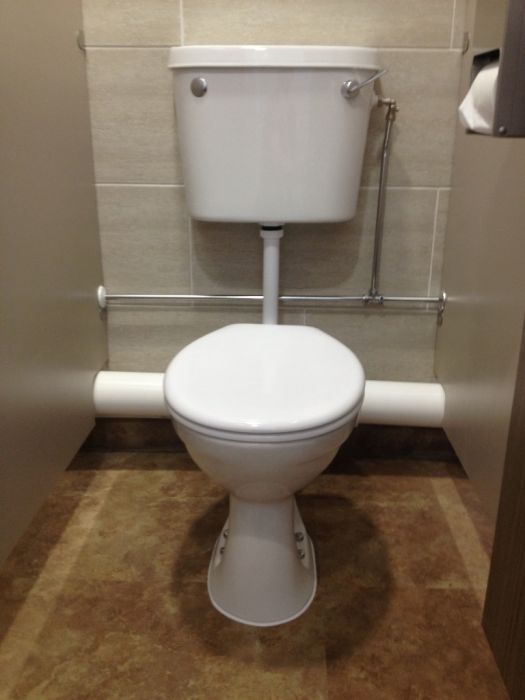 Doc-M packs are the ideal solution as they provide a cost-saving on purchasing all the components separately and all components are designed to comply with the relevant legislation. Selecting components individually even for the skilled specifier can be a difficult task.
For example, Doc-M toilets are taller to aid users with mobility issues so they do not have to bend as far whilst the seats also include buffers to hold them steady, so that when wheelchair users transition from chair to toilet and back again they can do safely without the seat moving. Without this and other specialist knowledge of the features of such items, choosing all the components separately that meet Doc-M specification would be a long drawn out, error-prone process.
Not all Doc-M packs include a TMV3 valve or TMV3 rated tap but one or the other will be needed to comply with applicable regulations so this should be considered when purchasing. If a non-TMV3 rated tap is included in the pack but no TMV3 valve, a 15mm thermostatic mixing valve TMV3 rated will need to be purchased separately. Please check the individual pack specification.
A Doc-M pack will usually contain the toilet (including seat, cistern, and flush lever), grab rails (including wall-mounted rails, fold-down rail and a rail for the door), and a sink (with a tap). Other variations are available with additional accessories and features. Please check the specific pack specification.
Grab rails should contrast visually against the wall colour.
Taps and Flush Controls for Doc-M Toilets & Washrooms
A higher-end specification will include extras such as sensor flush systems for toilets as well as sensor-operated taps. In the majority of cases, sensor-operated equipment will be Doc-M compliant as it can be used easily by those with limited dexterity or who by nature of their disability are too weak to operate other types of control.
Care as always should be taken to mount these accessories in the correct locations and so that there is visual contrast to enable them to be clearly seen. Usually, the 'correct' location would be where the non-sensor operated equivalent would be installed.
Due to the cost-saving implications of buying a full Doc-M pack, it is not unusual to find that it is more cost-effective to buy a full Doc-M disabled toilet pack with a flush device (and possibly cistern) and tap and then discard these items in favour of sensor items. It often works out cheaper in comparison to buying the individual items required to make up a Doc-M pack omitting the standard tap and flush device and then adding sensor versions.
Below is a typical example of a school toilet refurbishment specification. This has been supplied by our sister company Lan Services Ltd who specialise in washroom toilet refurbishment and design projects.
Example Process of a Unisex Disabled Accessible Doc-M Compliant Washroom Refurbishment
This example shows the likely process involved in the refurbishment of a unisex disabled accessible Doc-M compliant washroom and toilet facility.
Ceiling: Install a new suspended ceiling throughout toilet room areas with a 600 x 600 white grid with Danotile ceiling board tiles. Ceiling to be installed at approx. 2.4m above the floor.
Flooring: 
Prepare flooring areas as necessary using latex self-levelling screed.
Lay Polysafe non-slip vinyl flooring throughout using appropriate adhesives and cove form at edges of rooms.
Walls: Install white Altro Whiterock to all exposed walls using white joining trims.
Cubicle Materials: SGL duct sets to conceal plumbing and cistern (if a BTW or wall hung system is specified) – Note: not required for close coupled toilets.
Plumbing: 
First Fix – Install first fix plumbing as required.
Second Fix: Install 1 x Nymas Doc M Pack, toilet style and grab rail colour as per the client's agreed specification or design. Mount additional grab rail to the disabled toilet door.
Electrical:
Install emergency assist alarm kit (light and sound alert) on a fused spur.
Install LED downlight fittings.
Lights to be switched with PIR motion sensors (extended time delay).
Install 1 x WR10 AirSteril odour and hygiene control unit on a switched fused spur.
Install 1 x Breeze 900 adjustable airflow and noise hand dryer.
Paint & Decorate: Undercoat and paint woodwork within a room, ensure visual contrast to Whiterock walls.
Additional:
Commercial Washrooms offers a unique washroom design and specification service in which we are able to supply full CAD drawings (2D and 3D) and Washroom Specification to submit out to tender. This often replaces the need for an architect when considering small, one-off washroom refurbishment projects. Please contact the sales team for more information.
Our colleagues at Lan Services Ltd will be happy to discuss a full installation service for any projects throughout the South of the UK.
The above information should only be used as guidance and is published in good faith.
As always, our team is at the end of the telephone for all your queries and questions and has a wealth of knowledge they're happy to share with you. So if you need some guidance, or would like to talk over your options, you can give them a call on 01202 650900.