Showering facilities can be found in a variety of different washroom environments and come in a range of shapes and sizes. When installing commercial showers, there can be a daunting amount of options available to you. Here we take a look at some of those options and explain the environments where they might best be suited.
Where commercial showers can be needed
Sports facilities and changing rooms are an obvious area where commercial showering facilities are needed. Hotels, prisons and hospitals also require showers and in these environments they need to be highly durable and vandal resistant. However, areas often overlooked include office washrooms and also care centres. Many offices decide to include a shower in the workplace, often used by those who cycle to work to freshen up. In care centres or facilities where disabled people may be using the building, a shower can be advantageous for accidents and spills.
All-in-one shower panels
To avoid the difficulty and mess of chasing out walls to conceal pipework, shower panels offer a smart, streamlined alternative and can be installed much more easily and efficiently. The shower panel units incorporate mains in, shower valve, thermostatic controls and shower head as well as all interconnecting pipework. These units are ideal if you are looking to simply add a shower to an existing washroom, or perhaps replace one without having to redo all the tiling. Shower panels can also be advantageous if you have very hard walls, or where recessing pipework within the wall is simply not an option. 
Commercial electric showers
This type of shower is most commonly found in executive areas where users are known and the risk of vandalism very low. Electric showers are also worth considering if you want to incorporate a shower into your office washroom. As with domestic electric shower systems, the commercial options also feature thermostatic controls as well as pressure strengths. Electric showers like the Mira Sport Max Electric Shower have additional safety features such as being able to shut down the hot water supply to prevent scolding should the water pressure drop.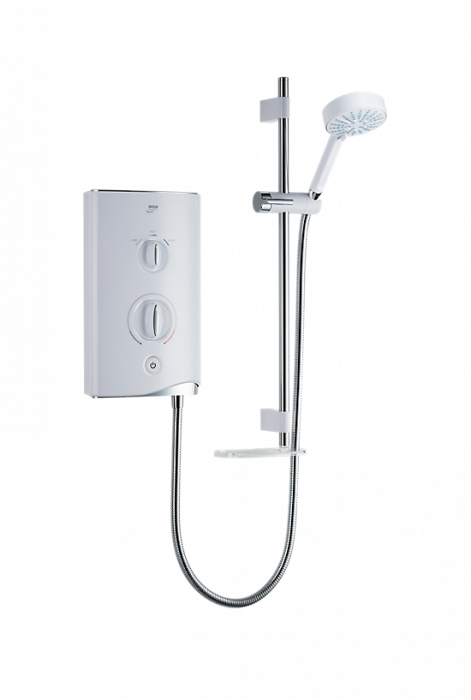 Choosing shower heads
Depending on the situation, you may need specific types of shower head in your washroom. If you are in an environment where you're concerned about vandalism or users harming themselves, then anti-ligature and specific anti-vandal options are available. Anti-ligature features mean that they are designed so that users are not able to tie or hang wire, string or rope from them. These types of fixtures are required in 'institutional' environments such as hospitals, care facilities and prisons.
Making a feature of exposed pipework
You can make a feature of your exposed shower pipework by using chrome piping. This is usually on show between the operating valve and the shower head. This is a very standard and good-looking procedure that makes replacements and routine maintenance easy to carry out. 
Concealed shower setup
With all pipework either chased into the wall or hidden behind duct panel systems, the only exposed areas are the controls and shower head. This makes them highly durable and resistant to vandalism, not to mention easier to clean. A concealed, fixed shower setup can leave a very smart, minimalistic look to your washroom.
Shower control valves
Shower control valves might not be the most exciting washroom purchase, but they certainly deserve your attention. Non-concussive, or push valves allow water to flow from the shower for a limited period of time. This eliminates the risk of showers being left on accidentally, preventing water wastage and flood damage. Shower valves like the Inta Push Button Concealed Shower Control allow you to adjust both the time and temperature of water flow through the shower.
Shower trays: do I have room?
Shower tray dimensions start at 760x760mm. Though this is small, it provides adequate room for showering. The most common size for a shower tray is actually 900x900mm, therefore if you can allocate one square metre of your washroom for a shower enclosure, then you should be fine. If fitting a cubicle, make sure the door either folds in on itself, or that you leave enough room for the door swing. Alternatively, you could use a traditional shower curtain.
Shower seats for the disabled
Fold down shower seats are required for disabled access showers and allow users to sit securely whilst washing. Stainless steel, aluminium and ABS plastic seats are available and as well as allowing the correct transfer space, you'll also need to install grab rails. At Commercial Washrooms we have Doc M Shower Packs that include all the necessary fixtures and fittings to equip your disabled access showering facility.
Open showers and flooring options
For a bank of showers situated in a wet room, there are two common options for floor covering. Tiling can look incredibly smart, but has two major drawbacks due to the grouting. In high traffic shower areas, grouting can wear down due to excessive use and need replacing. Grout is also an area where bacteria and mold spores thrive and so regular and thorough cleaning is required. If you choose floor tiles, be sure so install those that have protective non-slip surfaces.
Non-slip safety flooring is a an alternative to tiles that is far easier to maintain. With no grouting, or areas that bacteria and mold can build up, cleaning is made easier too making it ideal for high traffic areas such as liesure centres.
As always, our team are at the end of the telephone for all your queries and questions and have a wealth of knowledge they're happy to share with you. So if you need some guidance, or would like to talk over your options, you can give them a call on 01202 650900.