Traditionally, baby changing units were only found in female washrooms, the prospect of installing these facilities in the male washrooms was absurd. However, we've all come a long way since then and now businesses should accommodate appropriate changing facilities that are accessible to all - creating a level playing field for both parents to compete in wriggling out of nappy changing. As a business owner or site manager, there are several options available, and certain elements that need to be given thought to.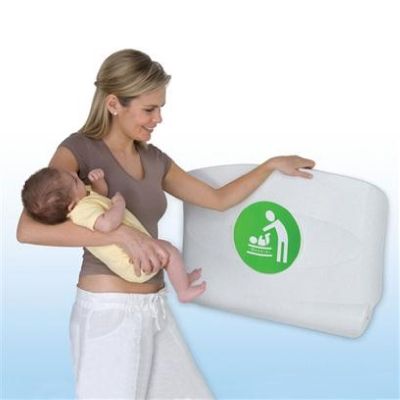 One for each washroom
If you've made the decision to install baby changing features in your male washrooms, you have the opportunity to create some additional storage at the same time. Solid surface, purpose built baby changing units are sturdier, stronger and look much sleeker than drop down units, but provide you with an empty void beneath them. This is an ideal space to create storage cupboards for cleaning materials, paper towel refills and loo roll, but you can also integrate a waste chute on the countertop and house a waste bin in the void beneath. This can help to keep the room looking tidier, but also keep bad odours away when using a waste chute that has a flap or lid.
Using disabled toilet space
If you have a unisex disabled washroom, then you have the option of installing a drop-down changing unit in this room. This is a common practice and one that appeals to restaurants and food service businesses that might be tight on space. However, if at all possible, consider locating the changing unit so that disabled parents could manoeuvre and carry out nappy changing too. In tighter rooms, it is also common to install the unit above the toilet.
Dedicated baby changing rooms
In many shopping centres, train stations, airports and motorway services it is common to provide a dedicated parent and baby room. These contain the basics such as baby changing unit, waste bin and hand wash station, but can also include things like microwaves for warming food and milk, hot water, a nursing booth or chair, and in some cases entertainment for toddlers. Baby or toddler seats are another popular item here, a place for you to safely secure one child, while either attending to another, or using the facilities yourself.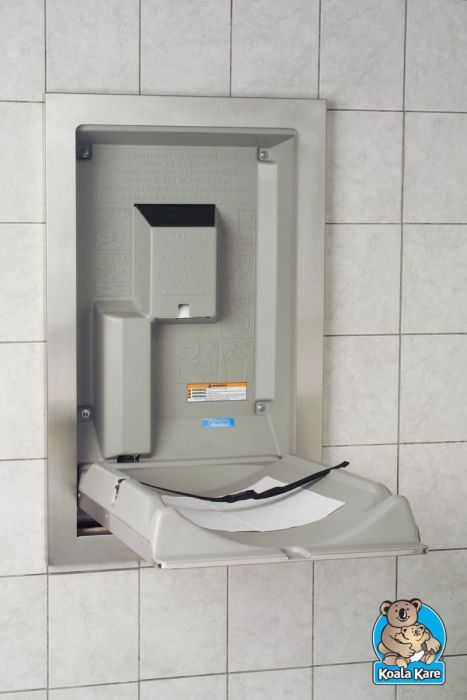 When space is tight…
You don't need a ton of space to be able to offer baby changing facilities in a washroom, but there are a few key things to bear in mind.
When siting a drop down baby changer, make sure it doesn't create an obstruction when folded down. If you have an ambulant diabled cubicle, you could locate the changer above the toilet. However, don't overlook to option of installing it in the common space of a washroom. On the wall next to the wash basins can be an ideal spot as it puts the user within easy reach of a hand wash area.
Somewhere safe to put the baby
Providing a safe, clean space to lay down an infant can be done in several ways. We have the aforementioned solid surface baby changing unit, which would be integrated and located on top of a vanity unit. This is where you have the option for storage underneath, a hidden bin and waste flap, and even an integrated wash basin. You then have two drop down options – horizontal, or vertical folding units, giving you two great options for tight spaces.
Somewhere to put the changing bag
Remember that when a user is entering the washroom to change a nappy, they will not only need somewhere to put the baby down, but also their changing bag. If you can have a deep shelf, then this works perfectly, but when installing a changer at the end of a vanity unit run, you could leave a slightly wider gap between the wall and first wash basin. Alternatively, if neither of these are an option, a simple hook on the wall will work just fine, be sure to fit it at a height that will leave a regular rucksack of shoulder bag hanging at the same height as the changing unit.
Waste disposal is essential
Nappies can smell, and although air circulators can help bad odours dissipate, a stinky nappy sat in a bin is going to continue to smell bad. For this reason, you need your waste bin to have a secure self closing lid or flap.
Additional items
You might also consider a roll of disposable changing paper that can be pulled onto the changing surface, then torn off and disposed of after use. This keeps the changer clean and helps prevent accidental spills. Hand and surface sanitiser is also a good idea, helping to aid a high level of hygiene in  the washroom. In hotels, restaurants and high-end shopping malls, you might also want to offer things like scented nappy bags, wet wipes and even spare nappies for parents caught short.
Don't forget signage
It may sound obvious, but a panicked parent dealing with an explosive nappy will immediately scour the room for baby changing and toilet signs. Don't leave your customers or visitors in the dark, having to guess if you have ample facilities for the job at hand. Point them in the right direction with signs. 
So whether you're planning a new build washroom, about to undertake a refurbishment project, or simply looking to add a few upgrades to your existing washrooms, baby changing facilities can be integrated and retrofit in a few swift steps. As long as there's somewhere firm and secure to lay the baby, a place to put a changing bag, and good odour eliminating waste disposal, you're set.
As always, our team are at the end of the telephone for all your queries and questions and have a wealth of knowledge they're happy to share with you. So if you need some guidance, or would like to talk over your options, you can give them a call on 01202 650900.