Following a new HMRC ruling, where VAT on greens fees are being returned to private golf clubs, changing and washroom refurbishment work in the sector has increased due to the windfall. Here we take a look at some of the design considerations when carrying out renovations.
Up to 67% of VAT back
The European Union court ruling is in relation to private members golf clubs overpaying VAT on greens fees. The ruling has left HMRC having to pay back 50%, and up to 67% in some cases, of the VAT claim by April 2016. This money is being invested in golf club facilities up and down the country with the changing rooms being an area of particular interest.
Golf club changing rooms are broken down into three main areas; changing area, toilet and washroom area, and the shower area. Here we highlight some of the design considerations that you'll need to make when refurbishing your club's changing rooms.
The Changing Area
Unlike other sporting centres, the changing facilities at golf clubs usually carry quite an extravagant finish. The aesthetics come high on the priority list, as does the user experience.
Lockers & Seating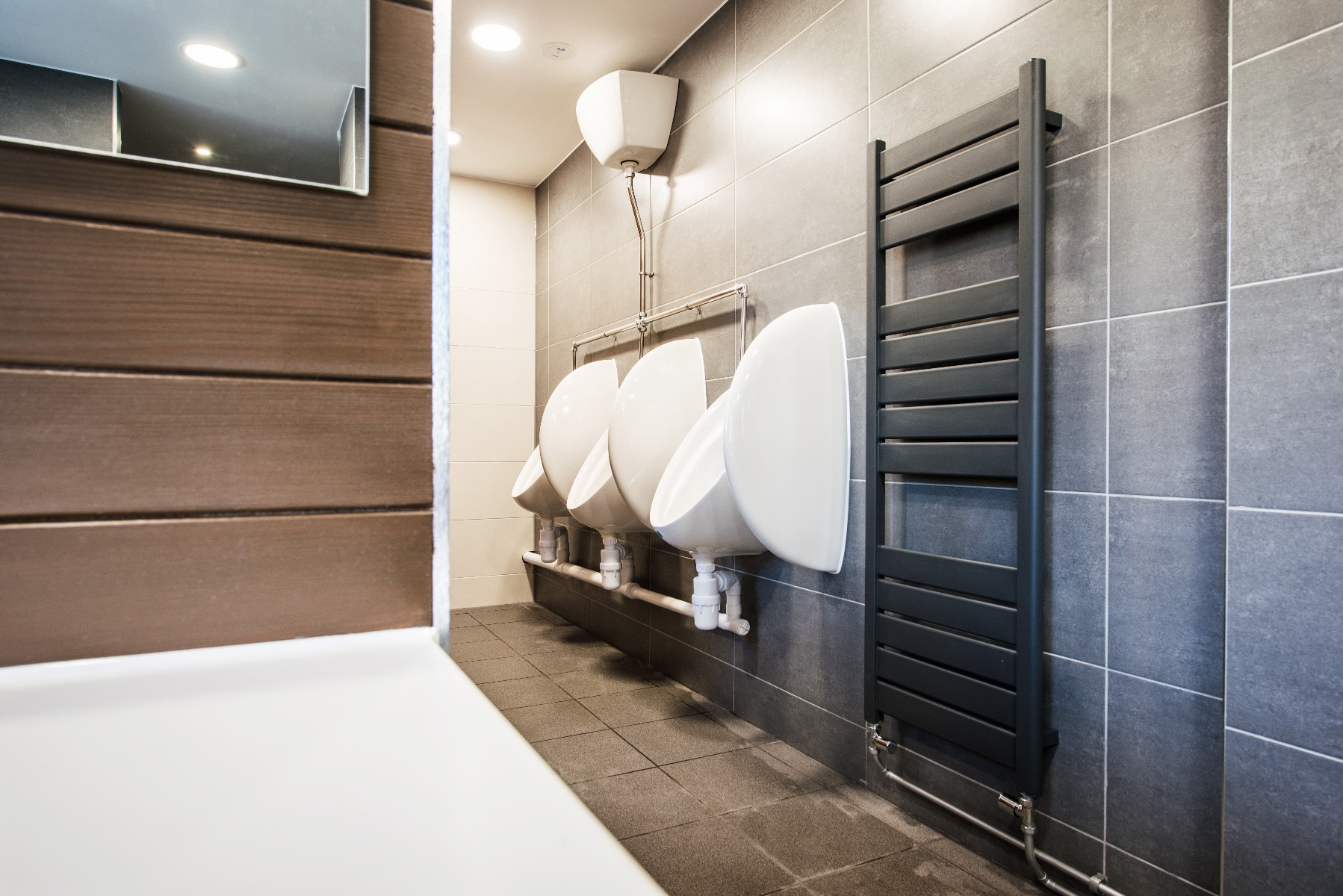 Lockers often carry wooden panelled doors with seating and changing benches most likely upholstered, delivering a certain level of comfort to members when coming in off the course. Carpeted flooring is common and most certainly needs to be of a highly durable nature, due to a lot of foot-fall from golf spikes. 
Dressing Table & Vanity Unit
Golf club changing rooms have come a long way in design and content - the comb sitting in blue fluid now seldom seen - but the breadth of facilities remain. Within your changing area you'll need mirrors, hand and hair dryers and a vanity work-space that sits beneath it. This can, of course, be incorporated into the toilet and shower area, though in many cases, a separate mirrored vanity area or dressing table is built within the changing room itself.
The Toilet and Washroom Area
The toilet and washroom area will benefit from a hard floor, which may be tiles, or safety flooring much like you'll find in leisure centres and hospitals. Whatever floor surface you chose, make sure it has anti-slip properties. Even floor tiles can now come with special non-slip features that are active even when wet.
Sensor Taps
Sensor activation improves hygiene in the washroom significantly as users never need to touch the sanitary ware. Sensor activation is commonly installed with toilets and urinals. Partnered with sensor taps at the washbasins, and sensor activated hand dryers like the Dyson Airblade, or Biodrier Business, the user experience is vastly superior to traditionally functioning options. This makes navigating and operating the washroom much easier for those with arthritis, or reduced mobility.
Cubicles 
When it comes to the cubicles in your washroom, you might be surprised at just how many options you actually have. First of all, you have the material to consider. We recommend Solid Grade Laminate for its high durability. In fact, SGL, as it's known, is completely impervious to water meaning moist, damp atmospheres and splashed water will never delaminate the panels. SGL also comes in a huge range of colours and finishes and can be custom made to fit your clubs exacting requirements. Melamine Faced Chipboard (MFC) is another option, though only suitable for dry areas, as is the more hardwearing High Pressure Laminate (HPL).
You may also wish to look into glass cubicles. Formed from two 5mm laminated sheets of toughened glass, these custom made panels can either be frosted, or painted to almost any RAL colour. This allows you to completely customise your cubicles, you can even match them to the colours of your clubs insignia.
Lastly, with HPL and SGL you have the option of having full height cubicles. This delivers more privacy to the user and can make a bank of toilet cubicles look vincredibly formal and smart.
Washbasins & Vanity Units
It's common to have a purpose built vanity unit or worktop in a golf club's washroom. This gives the user more space to lay out toiletries and generally delivers more space between users. Lay on wash basins sit on top of the worktop and give a very boutique, spa-like feel to the wash space. Alternatively, you can have countersunk, or semi-recessed washbasins that sit flush or below the work surface and tend to be slightly easier to clean from a caretaking point of view. Naturally, mirrors in this area are important, not only for members to check themselves when freshening up, but to help spread natural light around the room. For a slick, slimline finish, we have a concealed paper towel dispenser that fits behind the mirrors. A lovely touch that highlights attention to detail, keeping the sharp lines of your wash space clean.
The Shower Area
Lastly, we move to the showering area. Though a must have for golf club changing rooms, the showers are usually not used as heavily as other facilities. It's common for a busy golf club to only have two or three showers, but available space can often be the deciding factor on this. During the design process, you'll need to make sure mains water, electric and waste has all be incorporated, re-routing where necessary. For cubicles within your shower area, SGL or frosted glass, are both excellent choices. Be sure to accommodate towel hooks away from splashed water and give thought to providing a small shelf or integral cubby-hole for soaps and shampoos.
Showers & Valves
It can be a sensible idea to install thermostatic mixer valves with your showers. This will remove the risk of users scolding themselves and the TMV3 valve does this perfectly. To reduce water wastage, and prevent the risk of accidental flooding, push taps on the shower are a great option. They open the flow of water for a set period of time, shutting off automatically when the time has expired.
As always, our team are at the end of the telephone for all your queries and questions and have a wealth of knowledge they're happy to share with you. So if you need some guidance, or would like to talk over your options, you can give them a call on 01202 650900.