Some of the most common problems in commercial showers are caused due to incorrect placement and installation of drains. Poor shower drainage can lead to a number of problems where the water backs up into the shower cubicle or even into the wider changing space. As well as posing a risk to water damage, this problem can also have a significant impact on hygiene. 

Where should the drain be placed in a shower?
There are three main types of shower floor drain used in the commercial setting, each with its own merits. However, all perform incredibly well providing they are installed correctly and the waste services are big enough to handle the overall flow.
- Linear shower drains
Linear shower drains finish with a flush grid at floor level. The long rectangular shape means a lot of water can enter the drain in quick succession making them a popular solution in high traffic shower spaces in leisure centres and gyms.  Typically the drains are set into a recessed channel in the floor and are configured to suit the final floor covering which may be either a floor tile or a sheet style flooring such as a non-slip safety flooring.  The drains are sold as standard sizes or bespoke, and can also be offered with either horizontal or vertical waste outlets/traps.
Linear drains are ideal where there are multiple showers in a row, divided by shower cubicles which allow the drain to run continuously under each shower cubicle.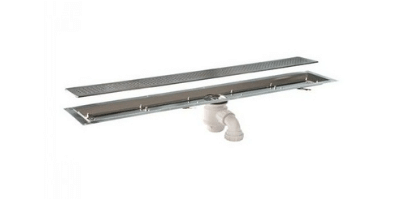 - Single outlet floor gulleys
A single outlet floor drain is usually a small round or square opening that will be installed at the lowest point in an individual shower space. These drains are often also installed in smaller wetrooms, making hose downs and deep cleans a breeze.  The gulley can be purchased to suit either a horizontal or vertical outlet and the internal water trap will prevent foul smells from escaping from the subsurface drainage.  Similar to the linear shower drain, the installer should pay careful attention to the final floor finish as the gulley is suited to either a tile or vinyl floor.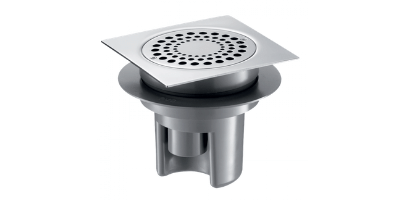 - Shower trays
The classic shower tray is also widely used in commercial environments. As in domestic settings, the shower tray is pre-formed to ensure the correct fall is set towards the waste outlet. These are perfect for situations where only one or two showers are going to be installed.  To help achieve a watertight seal we suggest setting the shower tray into a stud wall rather than using a cubicle partition to divide the shower trays.
You may need to pay careful attention to the height of the shower tray to ensure an adequate fall for the waste pipe.

Achieving the right falls for your shower
The main thing that needs to be understood when planning shower drains is the 'fall' on the floor surface. This is a unique consideration to flooring that only really exists in the shower space. Rather than a floor being completely level, you want the floor to slowly slope towards your drain location. If this is a single outlet floor drain, then this will require the floor to fall towards a central location. If you are installing Aco drains or floor gullies, then you will want the floor to fall gently towards one wall where your gulley drains will be placed.  One product designed to help with achieving the correct fall is our "On The Level range" of shower formers which have pre-formed falls.
On The Level drainage kits come in a wide range of sizes, tailored waste locations, various waste options, and floor finish types.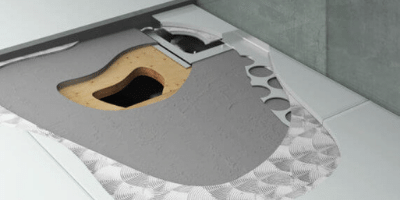 Beyond the floor drain
As well as looking at your drain choice and floor level, you'll need to assess the waste outlets on your site. Even with the greatest floor drains and levels in place, if the main waste pipe is too small, it will struggle to drain away effectively at peak times when multiple users are in the showers. Waste outlets can be widened and addressed to allow proper flow and will save you time and aggravation if handled at the earliest possible stage in your bathroom refurbishment. 
If you would like further advice on shower drains, or to take advantage of our full design and specification process, please get in touch on 01202 650900.