When dealing with washrooms, site managers and business owners have a responsibility to user safety. Whether that's a small washroom in a doctors waiting room, or an inmate's cell in a prison, anti-ligature washrooms should be a priority. 
What is an anti-ligature washroom?
An anti-ligature washroom means it has been designed so that there is nowhere for a user to tie a rope or cord with which to injure themselves. Anti-ligature washrooms are usually designed so that it's incredibly difficult for a user to damage any part of the washroom, much less harm themselves. This will mean fixtures that cannot break, split or shatter, as well as basins that can't be filled with water, and mirrors and shelves that can't be prised away from the walls. 
Beyond stainless steel, and balancing aesthetics
For many years, anti-vandal and anti-ligature washrooms have been traditionally made from stainless steel. However, there are a few problems that face stainless steel, particularly in institutional settings. It can be dented and damaged and also has the concern of rust. Deep cleans using bleach will start to corrode and compromise stainless steel. However, today we offer polymer resin sanitaryware, also known as solid surface. This material not only looks much more pleasing to the eye as far as washroom aesthetics go, but also can't be smashed like vitreous china. This has significantly improved the appeal of anti-vandal washroom products and lengthened the life of countless commercial wash spaces. 
The Guardian toilet
This composite toilet is used in many locations where user safety is a high concern, including prisons and hospitals. The coloured toilet seat is integral, has no hinges or ligature points and can be finished in blue so that it contrasts in colour to the pan, aiding the visually impaired. Being rimless, it significantly improves hygiene and cleaning, but also prevents users from concealing contraband, or other harmful items in the rimmed cavity of the toilet.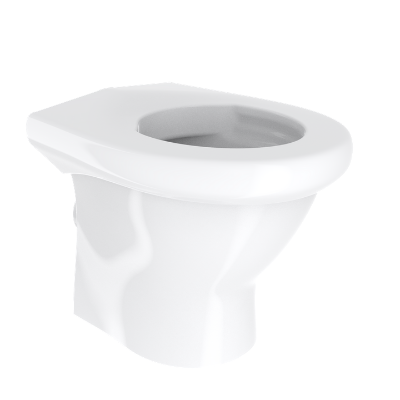 Features to consider
Sensor activated water controls for toilet flushing and hand washing are also ideal as they prevents fixtures from being damaged or used as ligature points, but also make the room easier to clean. Wash basins should be used that have no waste or grill. This removes ligature points, but also the potential for concealing drugs, sharps and weapons. We stock specific anti ligature wash basins.
At a time when the mental health sector is expanding, user safety in washrooms has never been of higher concern. From institutions and council operated public places, to independent businesses and pub operators, anti-ligature washrooms are now embraced across all sectors. 
If you would like some further advice on safer sanitaryware and anti-ligature washrooms, please get in touch with one of the team on 01202 690500